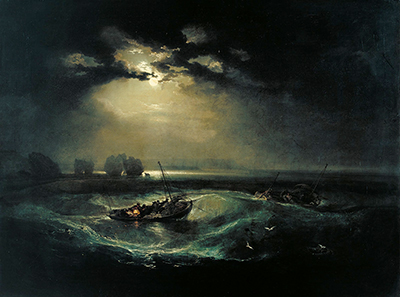 Buy Art Prints Now
from Amazon
* As an Amazon Associate, and partner with Google Adsense and Ezoic, I earn from qualifying purchases.
JMW Turner produced this dark seascape in 1796 and it was to become his first painting to be exhibited at the Royal Academy, in the same year.
The composition captures one main fishing boat centrally in the scene, with a number of supporting boats dotted around in the background. They are clearly at sea, in treacherous conditions. In the nearest foreground, we see a flurry of sea water, rising and dipping in an uncomfortable motion which underlines the difficulties experienced by the fishermen as they went out to work each and every day. The lighting from Turner is carefully directed over this main ship, to allow us to spot a little more detail, whilst the rest of the painting is relatively dark. The atmosphere is beautifully delivered and strikes us immediately.
The artwork Fishermen at Sea is now owned by the Tate in the UK, who run some of the most prestigious art galleries in the country, if not the world. Most of JMW Turner's finest paintings are on display in major British art institutions. The state has collected them with a vigour rarely used for other artists, such is the perceived importance of Turner's career. Most of the public prefer his brighter pieces over this darker scene, but it would be wrong to disregard the importance of Fishermen at Sea to his career, or to forget the clear artistic qualities that can be found here.
Turner adored the power of nature, and loved to capture elements of it within his work. Even when it infringed on human activity, he still felt more on the side of mother nature and this passion would inspire many of his seascapes. It is perhaps the lighting that is unusual within this piece, and we must consider English art in order to find possible inspirations for Turner's choices here. Most of his own artworks are brighter and more upbeat, but it is likely that this piece took a lead from the likes of Joseph Wright of Derby, who is well known for using the same level of dimly-lit content. He actually was more famous for scenes of portraiture and groups together, rather than seascapes, but the devotion to darkness was a key element to his signature style.