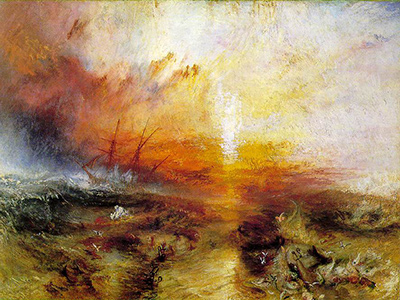 Buy Art Prints Now
from Amazon
* As an Amazon Associate, and partner with Google Adsense and Ezoic, I earn from qualifying purchases.
Enjoy the greatest British artist in your own home with a high quality reproduction art print from Turner's extensive career. Choose from a wide selection of landscape and seascape paintings from his impressive oeuvre.
Turner Prints are among the best examples of British Romanticist art available, and Turner's paintings rank alongside the likes of Constable and Gainsborough in the history of British art. Why not add a print to your home? We include some of his best paintings in this website, with prints ready to buy online from recommended retailers. There is also further information on the artist too, often referred to as either William or JMW Turner. The famous painter made a truly important contribution to art through his development of Romanticist art from an early stage onto an art movement which led to the impressionists from France who pushed art onto the contemporary styles that we have today.
Turner's landscape paintings, alongside fellow artist John Constable, also helped to bring about the rise of this type of painting into the mainstream, where previously religious and personal portraits had held a strong hold in all genres. Whilst we take all of this for granted now, a careful study of Turner's prints below will underline how they left such an impressive legacy on the art world which still remains. Turner's The Fighting Temeraire, as shown above, was voted Britain's "greatest painting" in a public poll organised by the BBC in 2005, and is clearly a great choice from the many paintings from his distinguished career.
You can see a fuller list of his works further down the page. It is the use of light and brightness which made this particular painting so ground-breaking and is why it remains such a popular print. His other works also continued this style, with a series based in Venice, Italy also containing some of his best. As well as classic oil on canvas there were also some exceptional watercolours by the artist which themselves are regularly featured in art galleries across the UK and USA. Whilst watercolours remains very much secondary in popularity to oils in terms of global appeal, there are certainly still many areas that respond well to this classic technique and he retains an unusual ability to have produced high quality works in both mediums.
Clicking on the Turner painting above or any of the text links will give you the opportunity to pick from many different types of art products of his best paintings, with around 500-600 available in total. As well as art prints there are also tapestries and stretched canvases too. Framed prints are offered on all prints, simply use the framing options to choose your preferred custom product. Followers of the great Romanticist paintings of Turner may also appreciate some other famous British artists whose prints you can also buy, from different art movements over the past few hundred years:
Thomas Gainsborough
George Stubbs
Sir Edwin Henry Landseer
John Constable
Joshua Reynolds
Alfred Sisley
John William Waterhouse
Francis Bacon
Below you can find a full list of prints that you can buy of different William (JMW) Turner paintings:
Warkworth Castle, Northumberland - Thunder Storm Approaching at Sun-Set
The Battle of Trafalgar, as Seen from the Mizen Starboard Shrouds of the Victory
Snow Storm: Hannibal and His Army Crossing the Alps
Eruption of Vesuvius
The Battle of Trafalgar
Ulysses Deriding Polyphemus
The Burning of the Houses of Lords and Commons
The Grand Canal, Venice
The Fighting Temeraire Tugged to Her Last Berth to Be Broken up
Slave Ship (Slavers Throwing Overboard the Dead and Dying, Typhoon Coming On)
Glaucus and Scylla
Rockets and Blue Lights (Close at Hand) to Warn Steamboats of Shoal Water
Rain, Steam and Speed - The Great Western Railway
Shrimpers, Lyme Regis
Turner prints offer an excellent example of British Romanticist art at it's very best with the artist, refered to as both JMW and William, being the spearhead of this influential art movement which inspired the French impressionists (see Caillebotte, Bazille, Pissarro and Monet) that followed shortly after. Romanticism was one of the first art movements to concentrate entirely on landscape painting and achieve mainsteam success with it. This website offers you up the most famous Turner prints from his illustrious career with some of the best available to buy from the links below, with others included in our gallery.
The Temeraire is the best known painting by Turner and a great choice as print for those looking to add it's characteristics of colour, lighting and tranquility to their homes. Turner's success as an artist has led to great achievements in his honour, with the Turner Prize named after him and also regular exhibitions in major galleries of the UK and United States. The Turner Prize itself is a contemporary art competition which aims to celebrate British art and although the styles in it are very different to the paintings produced by William Turner, it is still an important symbol of the influence that he left on British art.
In recent years the Turner Prize has brought many great abstract artists to the attention of the public and given them the chance to increase their exposure to the wider art world. Turner is amongst the most appreciated British artists of all time, both academically and buy everyday art consumers. Many choose to buy Turner reproductions that they can enjoy in their own homes, though typically smaller than his original works because they were so huge. Turner's romanticist style makes his original oil paintings best reproduced as framed art giclee prints which completes a professional look and matches the relatively traditional style of this art movement.
The Rain Steam and Speed print is a classic British view from the past, with a steam train travelling through the English countryside. It makes an obvious choice for people looking to buy Turner prints and is a great example of British art at it's best. Turner was an artist who enjoyed capturing major battle scenes within his works, typically seascapes, as well as landscapes of classic British countryside views, be in with trains or rolling hills. At a time when portrait and religious depictions were most common it is artists like Turner and Constable who brought landscape painting to the masses, as they continue to do today in conjunction with the more recent artists who have continued on their legacy.
Most Popular JMW Turner Prints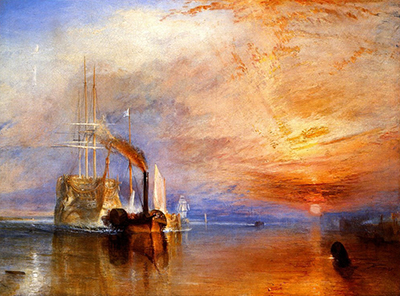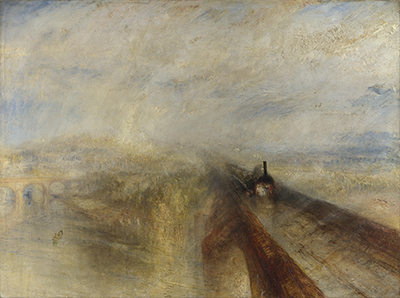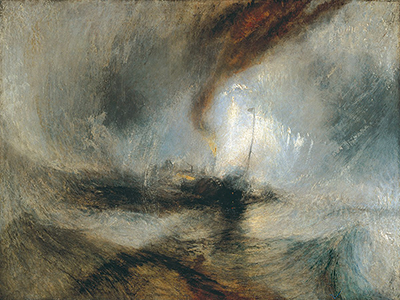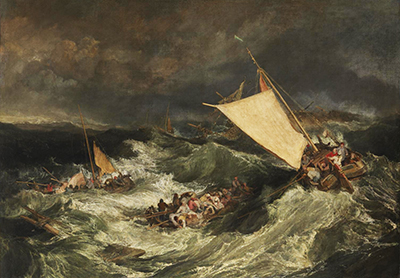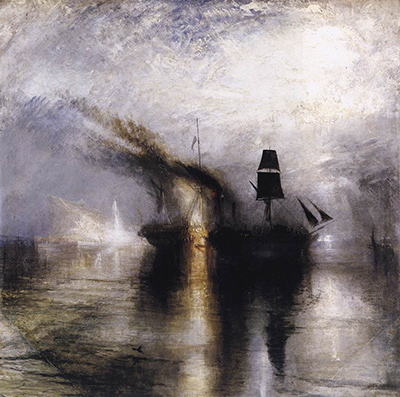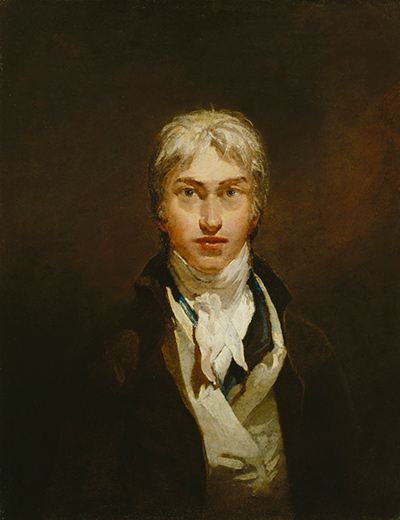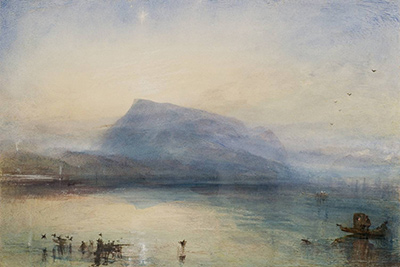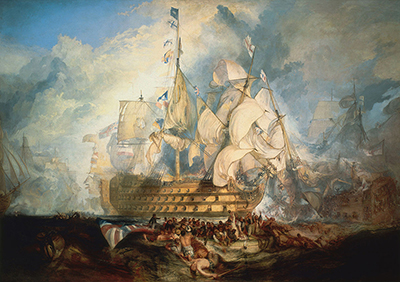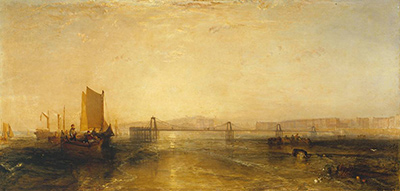 After establishing landscape painting as a major interest in the art world alongside the likes of Constable and Friedrich, other painters who have continued the idea but added their own contemporary techniques and ideals include Pop artist David Hockney, Cubist Pablo Picasso and members of the Hudson River School, to name just a short selection. The Venice print above represents a key period in the career of Turner when he spent a lot of time in the homeland of art at the time, Italy. Indeed, Venice itself was one of the main locations for both enjoying art itself and also as a home for those with the potential to influence it's future development. British art had long suffered in the shadows of French and Italian art which had dominated since the middle ages with the rise of renaissance, impressionism and many others of their homegrown art movements. The Romanticists was a moment where British artists produced great quality art and helped shape the future direction for artists and so painters such as Turner and Constable represent a very important era in British art.
William Turner is best served by the key national galleries of London where much of his paintings have been stored as part of both comprehensive exhibitions and also as part of permanent collections. The Tate and National galleries offer great attraction to those interested in studying the most famous British art, with other notable painters from the UK including Thomas Gainsborough, Sir Edwin Henry Landseer, Joshua Reynolds, George Stubbs who were traditional painters. More recent additions include John William Waterhouse, David Hockney, Alfred Sisley and Francis Bacon plus several from the respected Pre-Raphaelite movement. The Ulysses Deriding Polyphemus print above is another classic seascape by Turner with impressive traditional ships in a well planned scene of action.
The style of Turner was to offer mystical, sweeping paintings which offered emotion rather than just pure replication of the view that the artist could see. This is nothing new now, and of course the paintings seem very traditional in comparison to the abstract styles that appear now. However, at the time it was highly original and in fact went against the norm in promoting romanticism and landscape painting in general. Turner is another artists whose career has overcome initial hurdles to help lay the foundations for the mainsteam of the future. The Burning of the Houses of Parliament continues Turner's choice of key moments in British history and depicting these across great landscapes.
Aside from those featured in this homepage, the greatest prints available from Turner's career includes Warkworth Castle, Northumberland - Thunder Storm Approaching at Sun-Set The Battle of Trafalgar, as Seen from the Mizen Starboard Shrouds of the Victory, Snow Storm: Hannibal and His Army Crossing the Alps, Eruption of Vesuvius, The Battle of Trafalgar, Ulysses Deriding Polyphemus, The Burning of the Houses of Lords and Commons, The Grand Canal, Venice, The Fighting Temeraire Tugged to Her Last Berth to Be Broken up, Slave Ship (Slavers Throwing Overboard the Dead and Dying, Typhoon Coming On), Glaucus and Scylla, Rockets and Blue Lights (Close at Hand) to Warn Steamboats of Shoal Water, Rain, Steam and Speed - The Great Western Railway and Shrimpers in Lyme Regis. There are many others available in the gallery.