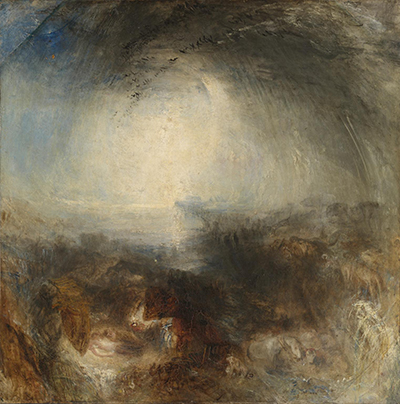 Buy Art Prints Now
from Amazon
* As an Amazon Associate, and partner with Google Adsense and Ezoic, I earn from qualifying purchases.
Joseph Mallord William Turner was, first and foremost, a landscape painter who worked both in oils and watercolours.
Turner profoundly christened "the painter of light", took the classical genres and scenes of art, i.e. the splendid reverberated landscape in ingenious compositions and historical events of his era; and infused them with a grand, novel, dynamic aptitude in painting that resonated the canvas. Turner's vision in his late period is held to be a precursor to modern art. Throughout his life's work an artist, three themes can be drawn stretching out all across his work and time periods, these themes namely are: Composition, Imagery, and his interest in Light. Here you can discover his most extraordinary works.
Turner's paintings reflected on the increasing providence of individual experience during the era of Enlightenment, where the outright perception of mankind in his wholeness, led to exalted personal moments and transcending interactions with nature. Through this marvellous dedication and bravura in rendering heightened states of being and consciousness, Joseph Mallord William Turner helped define the cross-disciplinary artistic movement of Romanticism, rolling out the stage for later developments in painting, subjective experiences of which would lead to impressionism.
Turner reflects a changing world
In some of his later inspiring works, Turner responded to the advent of the modern era by making the contrivances of human invention and innovation, powerfully and sometimes threateningly acknowledged. His unrivalled work reached back to the event from the past but also acknowledge and enumerated the momentous events of his time.
So of his most interesting works in history include: The Transformative Effects of Industrial Revolution, The Fire at the House of Parliament, and the Deaths of slaves during a typhoon. These paintings in respective order are: Rain, Steam and Speed: The Great Western Railway (1844), The Burning of the Houses of Lords and Commons (1835), and Slavers Throwing Overboard the Dead and Dying: Typhoon Coming On (1840).
Turner was an ambitious, open minded man who would do whatever was required in order to develop his work ever onwards. Travel was one way in which he explored new ideas for his work, and much of his work with watercolours came about during his time in Italy. The artist also visited France, Switzerland and Germany during his extensive travels and much of the influence placed upon him during his time here is reflected in some of the artworks found here.
Broad ranging oeuvre
It was the breadth of content across his career combined the technical skills of his work in both mediums that helped to set him aside as a famous name in European art history. Many of Turner's most famous artworks are glorious representations of historic locations in the British countryside, such as castles. He would also depict seascapes with various levels of activity, from tranquil Brighton scenes to full scale battle pieces. This paintings section draws together the best of his oils and watercolour work, but a more specialist list of watercolours is also available. Beyond the household titles like The Fighting Temeraire, there are a further hundred or so works to browse through.
It was his use of lighting which many earmarked as the key characteristic of Turner paintings, in a similar way to how Caravaggio and Rembrandt had earlier shocked viewers with a similar approach. The difference was that Turner used light to offer vivid landscapes for a viewer's enjoyment, rather than capturing atmospheric scenes of violence other activity.
His work would influence many artists that followed including, most notably, Claude Monet - the father of Impressionism. This single accolade underlines the significance of his technical skills and the impact that he had in promoting landscape painting. One factor in his rise to prominence during his own lifetime was the support of leading art critic John Ruskin whose backing would go a long way at that time in the UK art scene. Ruskin helped establish a stream of commissions and Turner would later be referred to as "the painter of light".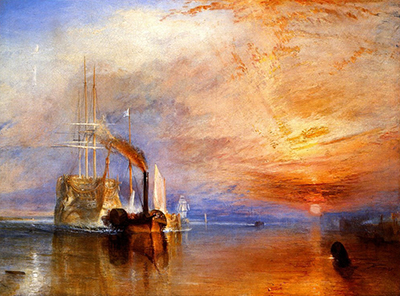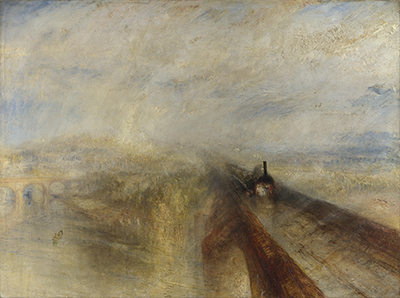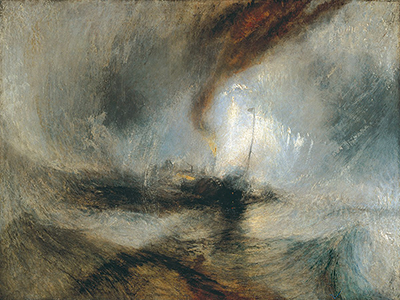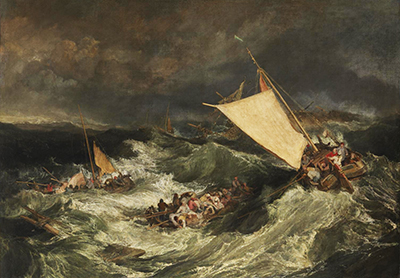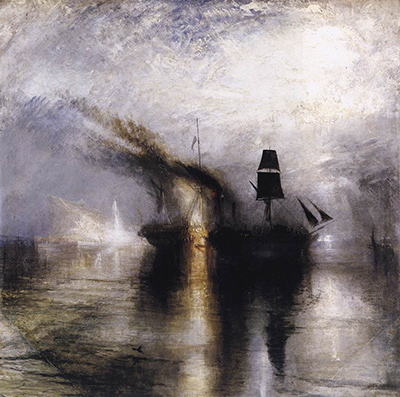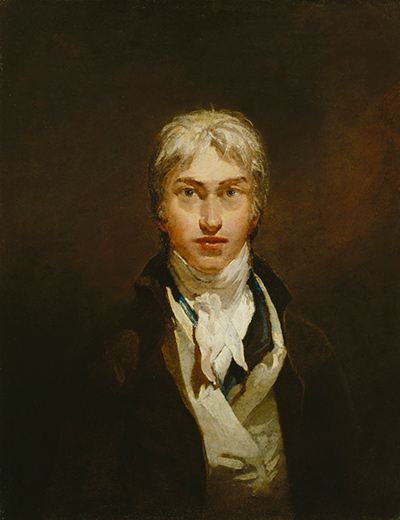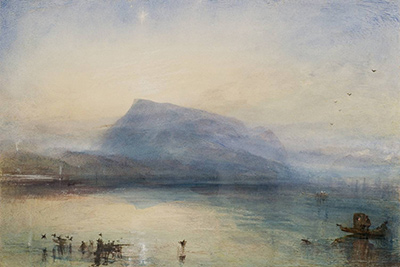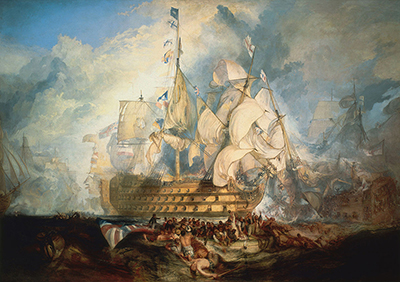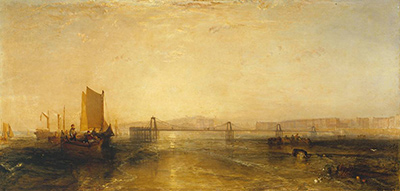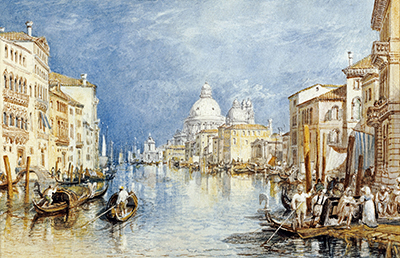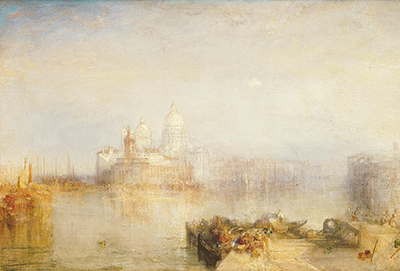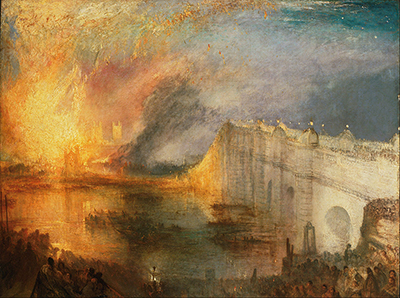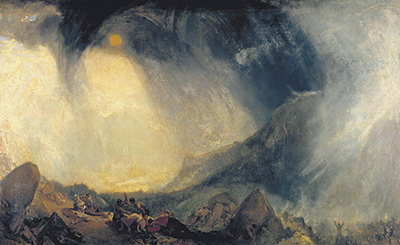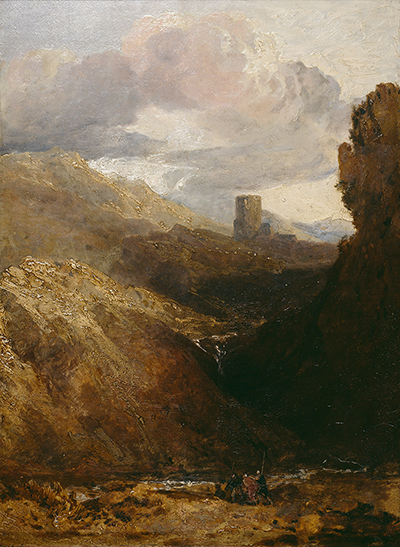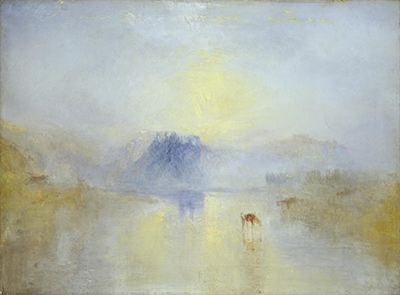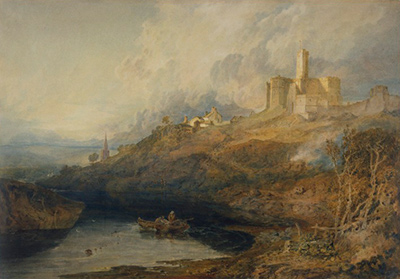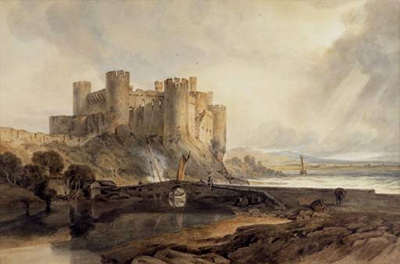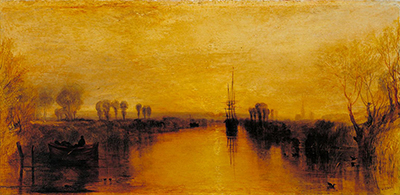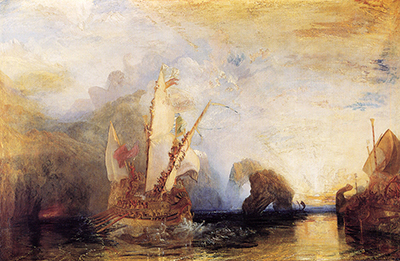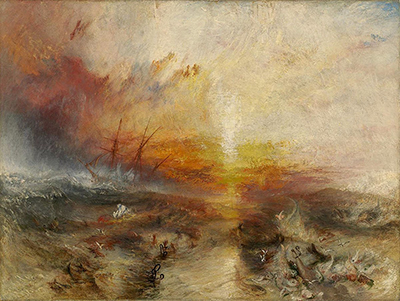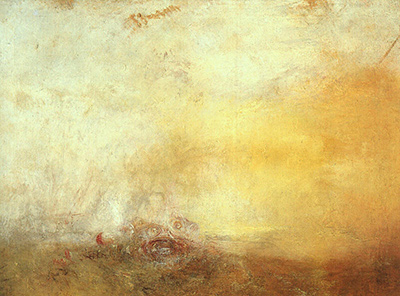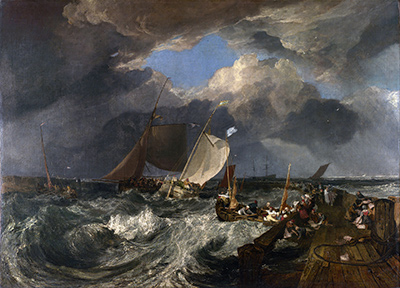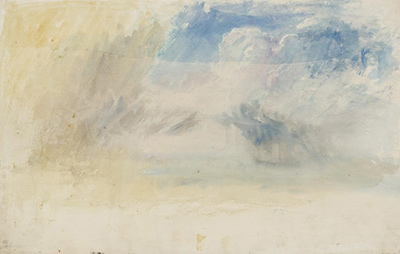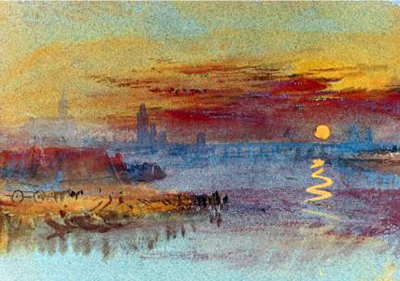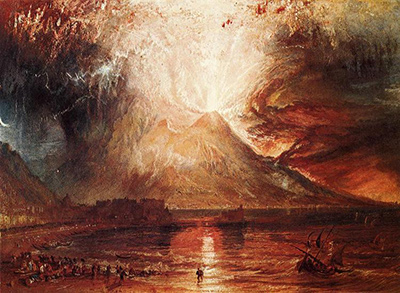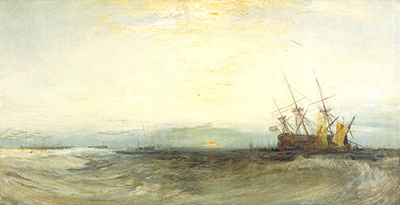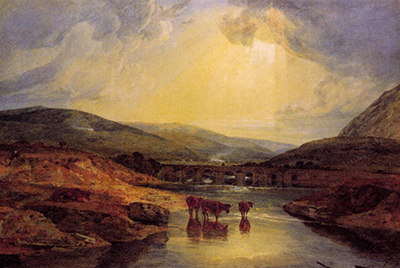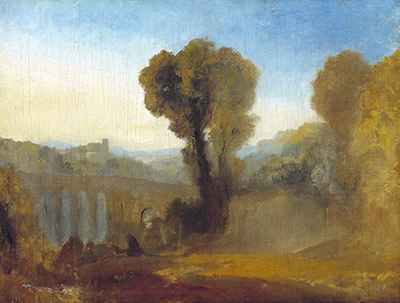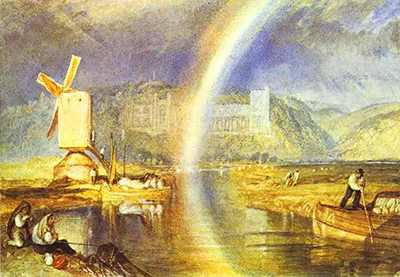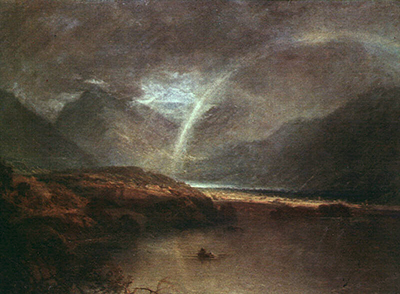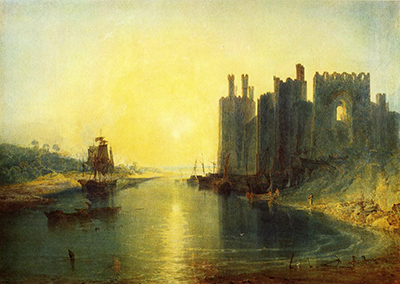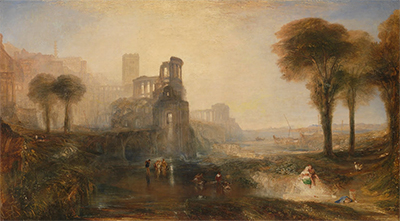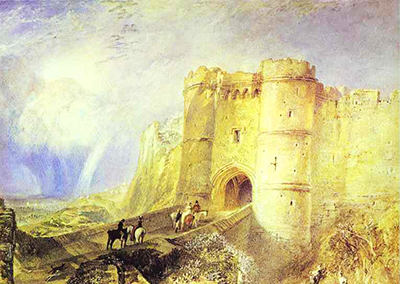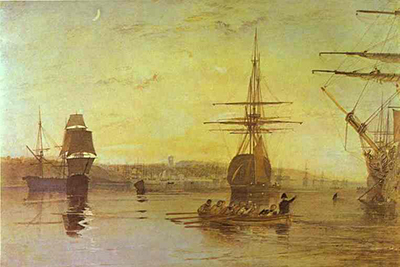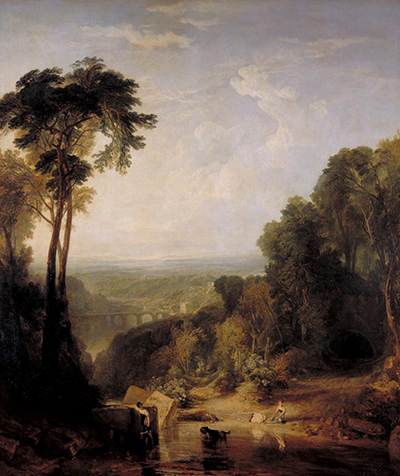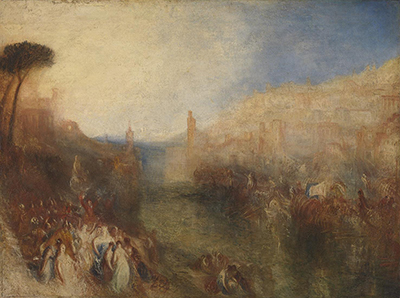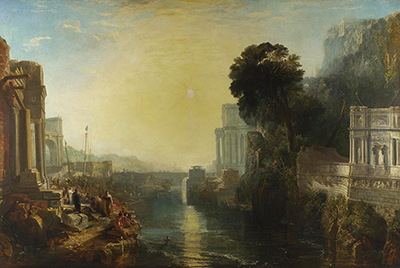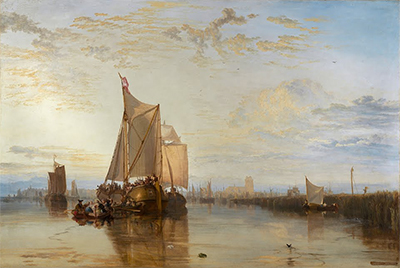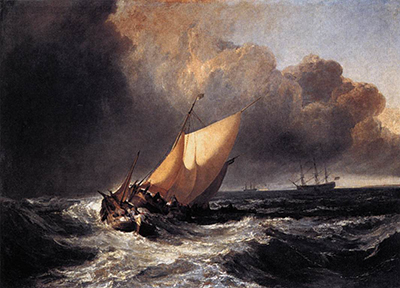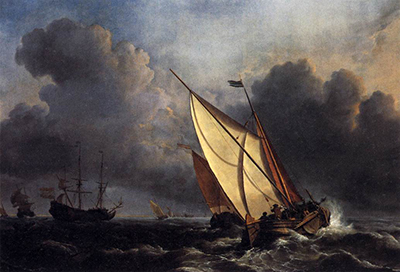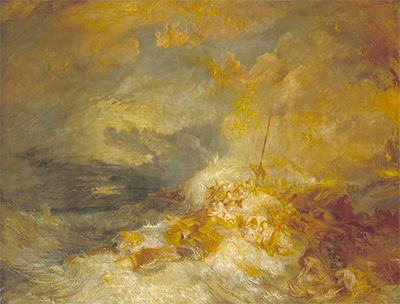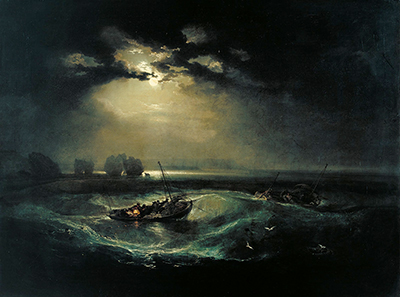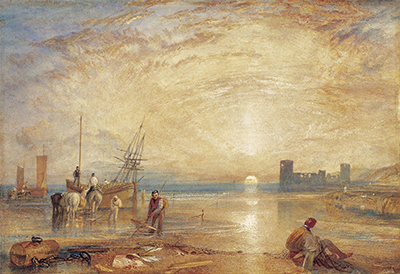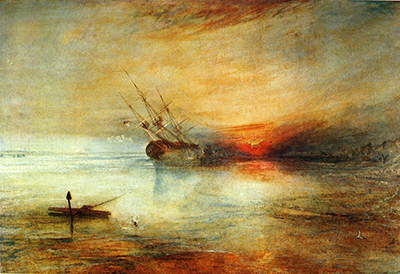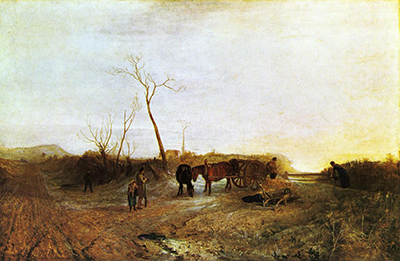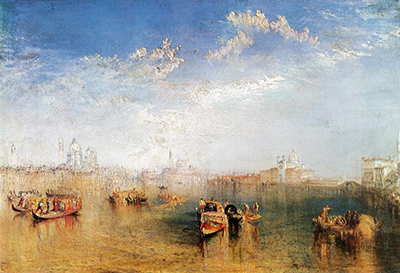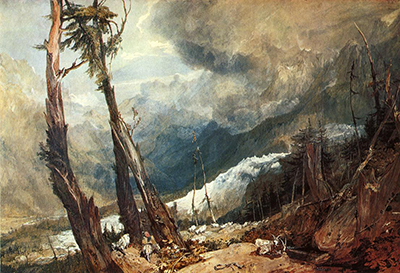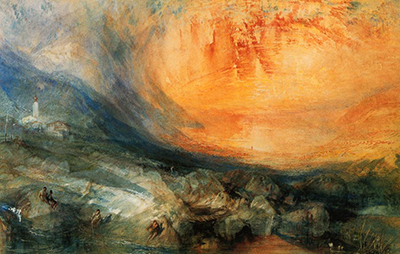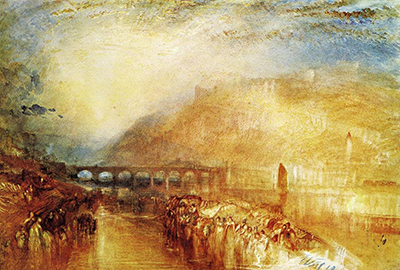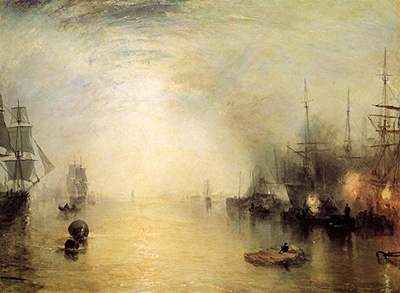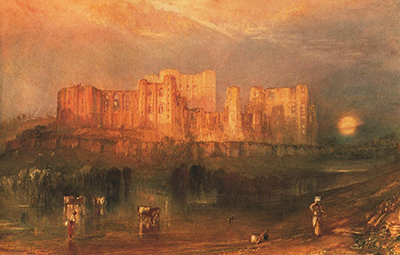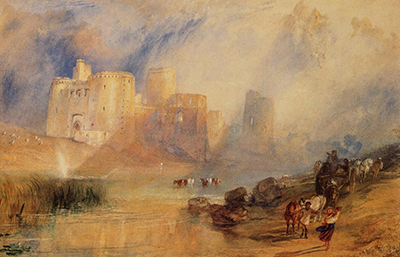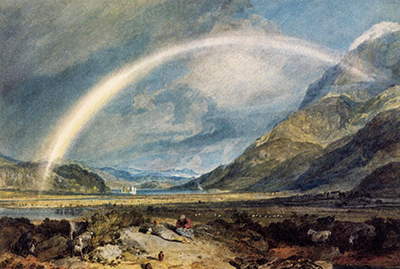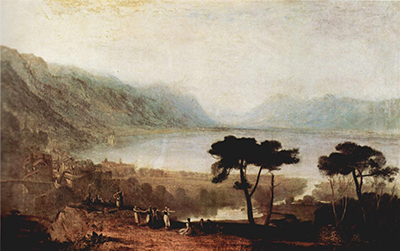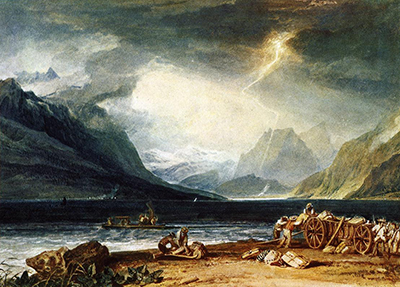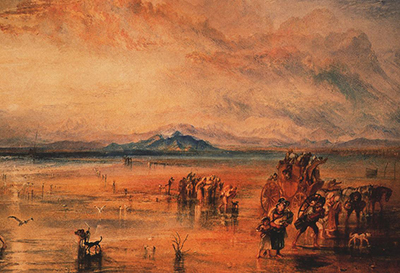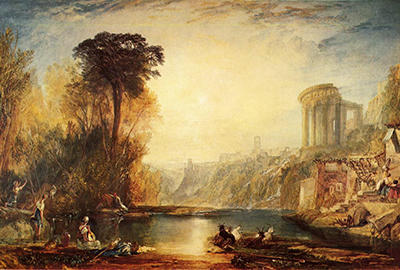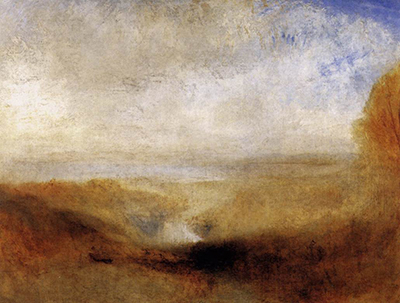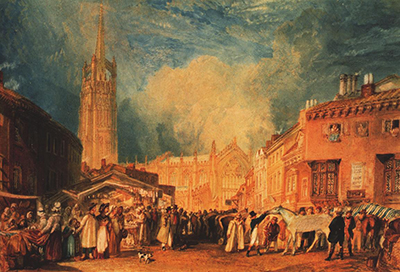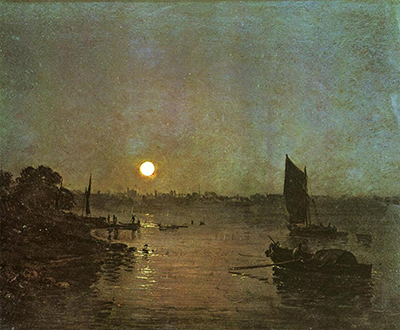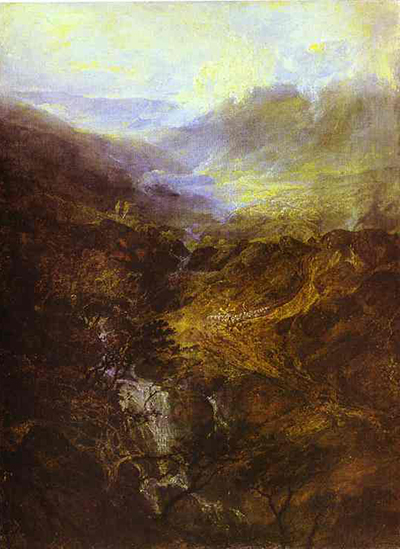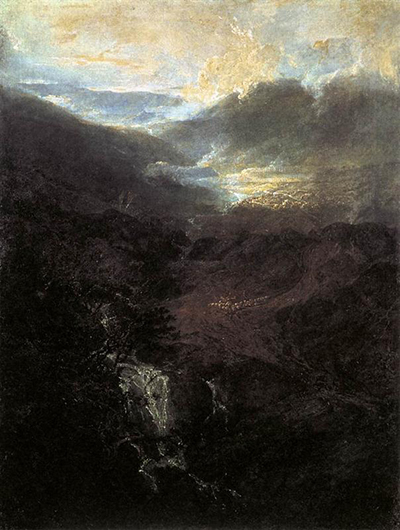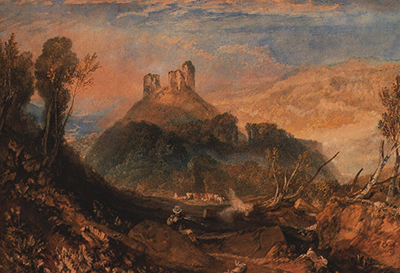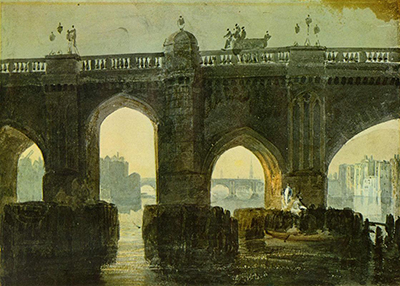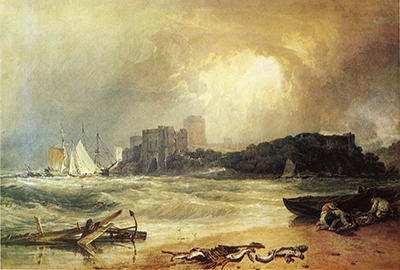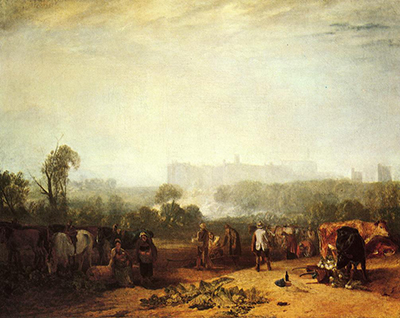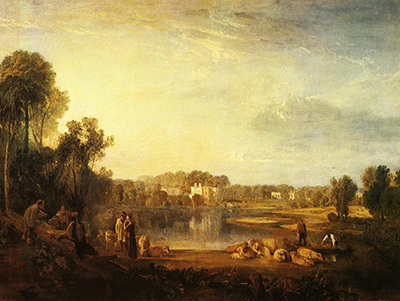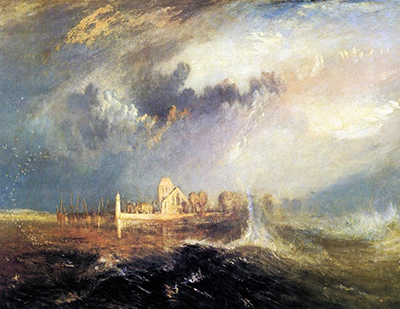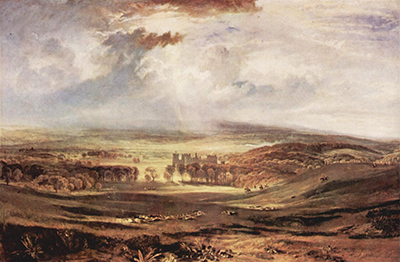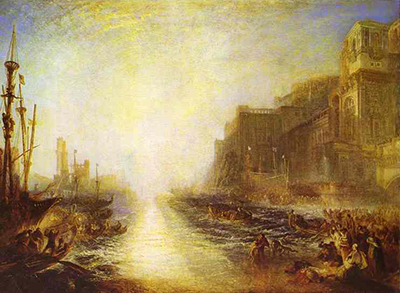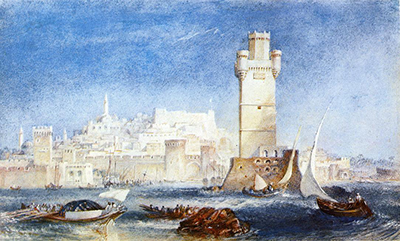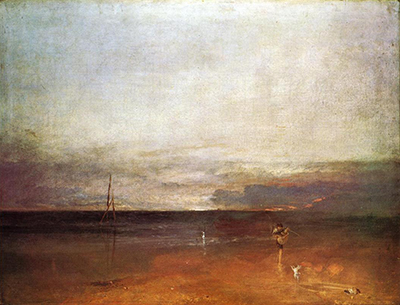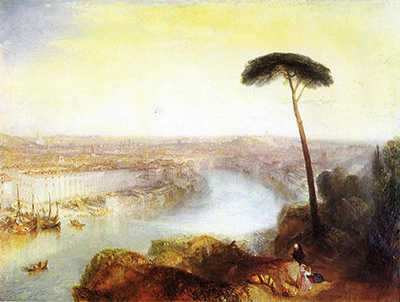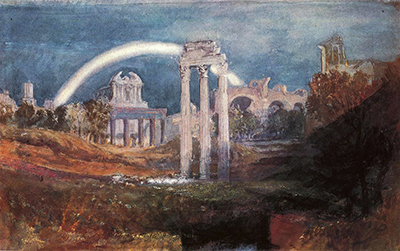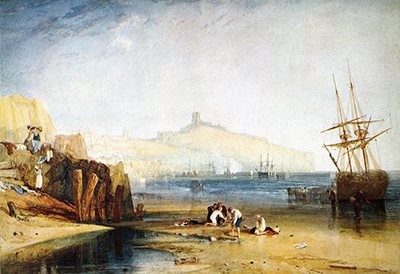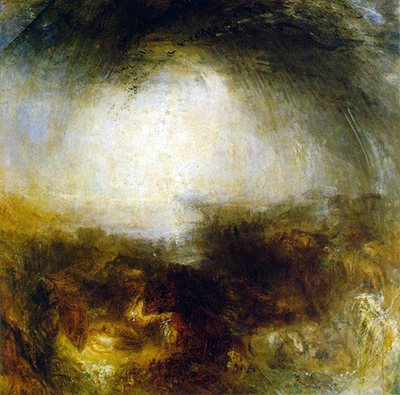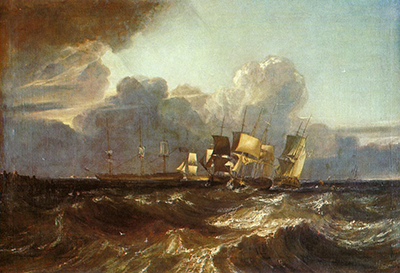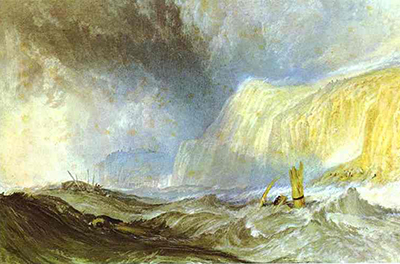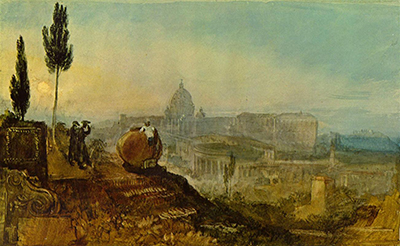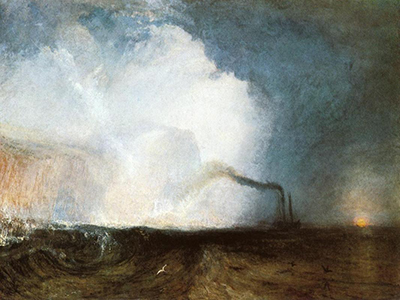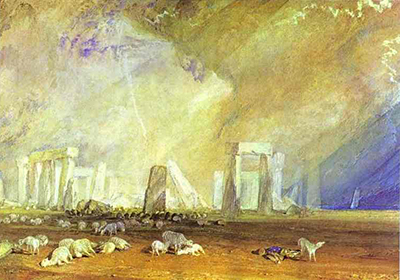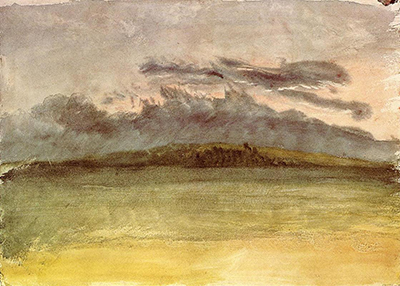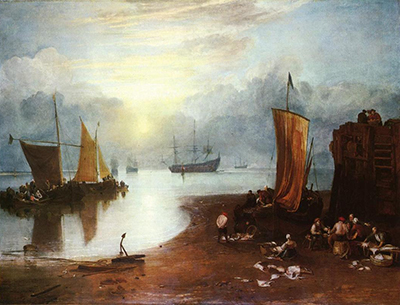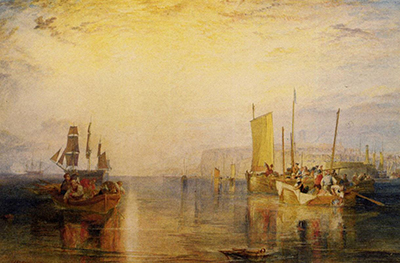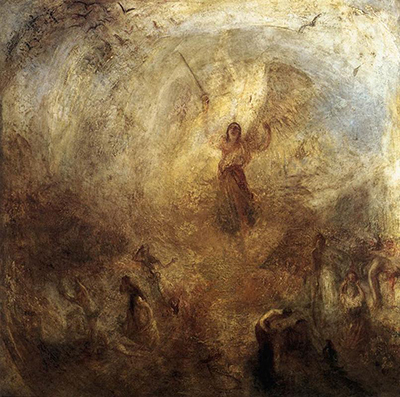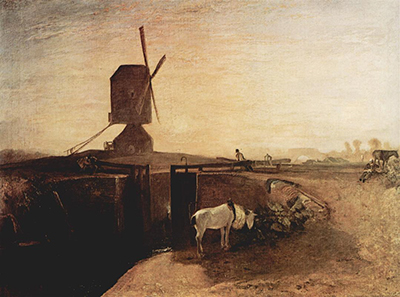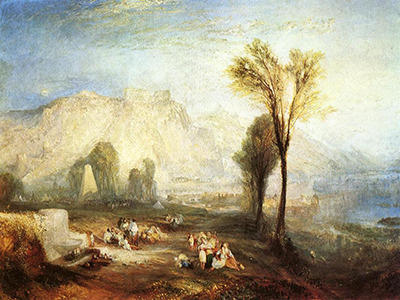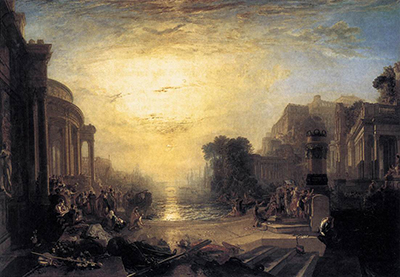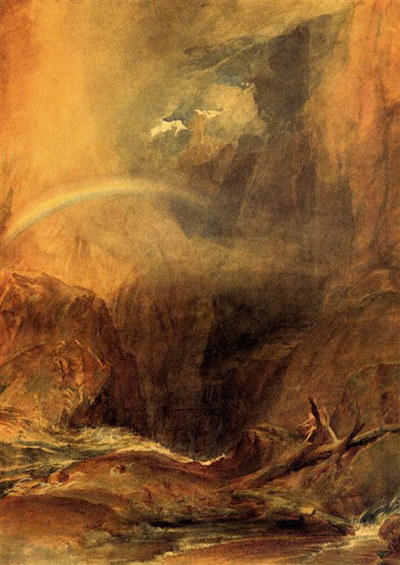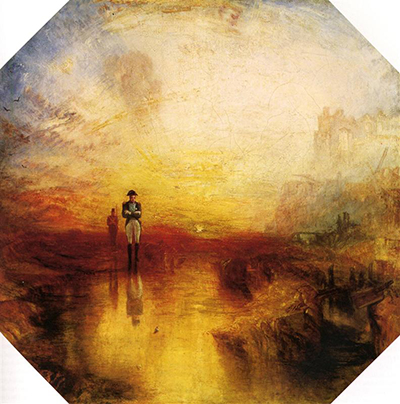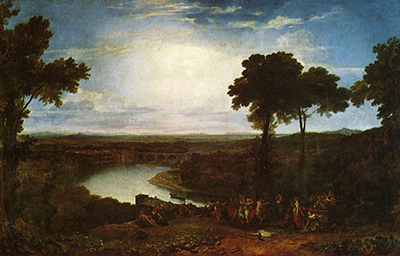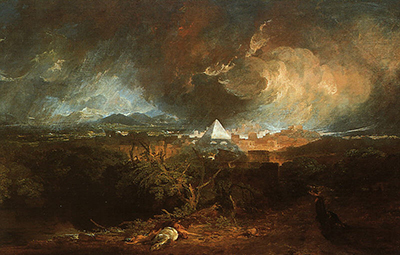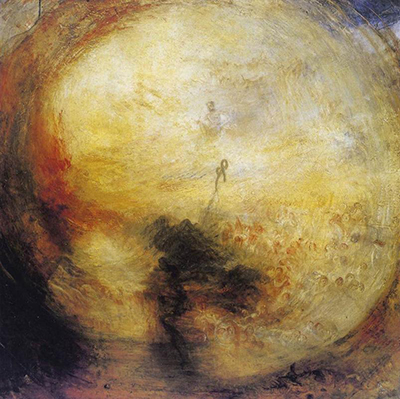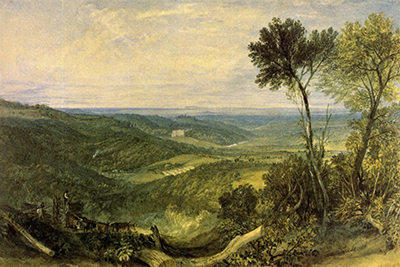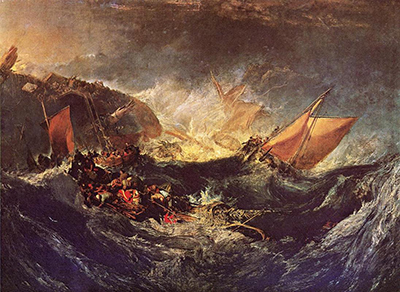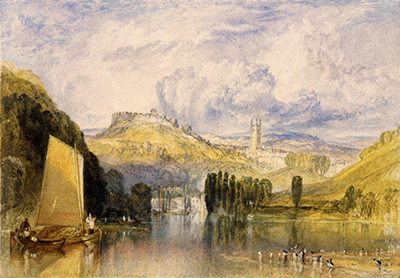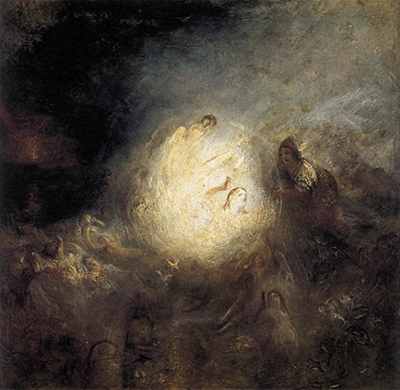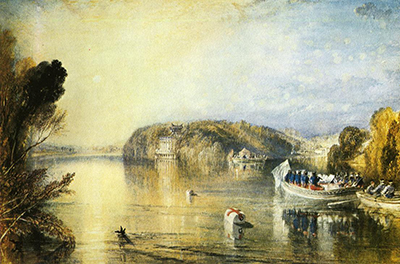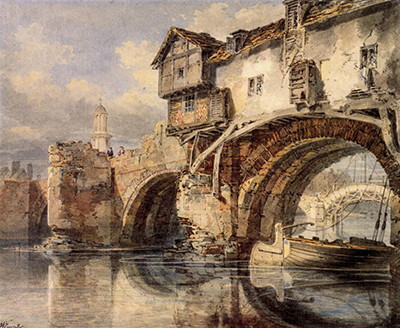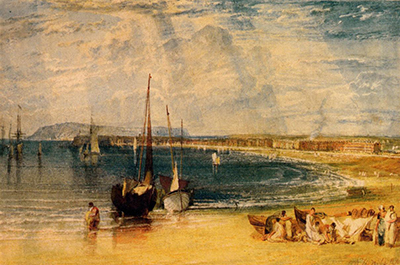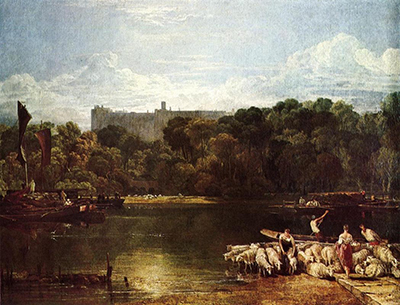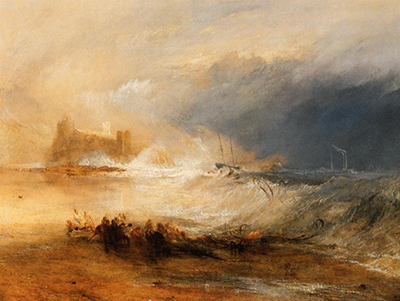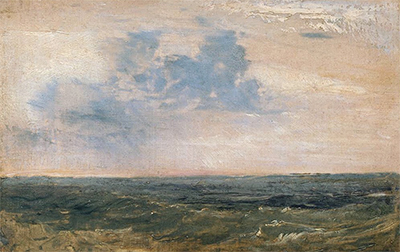 Artistic Techniques used in Turner's Paintings
As an artist, Joseph Mallord William Turner shrewdly displayed a perceptible evolution in his style of painting throughout his lifelong career. Turner was one of the most versatile, efficacious, and controversial landscape painters of the 19th Century, England, demonstrating astute mastery of watercolour, drawing, etching, and oil painting. His years of voluminous output ranges from splendid depictions of local topography to awe-inspiring atmospheric renderings of terrains and fearsome storms.
Though influenced by historic painters and landscapists of the sixteenth and seventeenth century, Turner was an innovator; a visionary hailed as a forerunner of the modernist paradigm. Turner stayed true to the intricate genre of landscape, but notably, as his career progressed, he began paying less attention to the infinitesimal detail of objects and landscape, and more attention to the enthralling effects of light and colour, fascinated by the intricacies of natural and atmospheric elements. A keen observer and passionate recorder of the things in his world.
In his early years, Turner was an outstanding draughtsman, displaying interest in architectural illustration as he explores the vast genre of styles of landscape composition ranging from historical, mountainous, architectural, pastoral and marine. Throughout the fore half of the 19th Century, Turner was unrivalled. He dominated the vast British Landscape painting in an intricate Romantic style driven by the imminence of Emotion, personal experience, and the infinite power of imagination.
His landscapes ranged from the transcendent to the picturesque, with each artwork reconnoitring ambient atmosphere through careful attention to colour and light, as well as an expanding repository of techniques. It is during this period, that Turner is observed to have executed dramatic and romantic techniques, brought to life by emphasising atmosphere, and luminosity of the subject. Additionally, Turner is observed to have paid more attention to architectural and natural details in fine accuracy, as compared to his later years.
As his career progressed, Turner's painting style shifted in his middle years; his technique advanced further as his painting became more luminous and atmospheric. Turner began focusing more on the colour contrast than the actual detail of the topography, with St. Mawes at the Pilchard Season (1812), being a fitting example. As time progress, Turner forthrightly began paying less and less attention to specific details, and more to the atmospheric ambience illuminated by natural elements such as the sun. A good example being the Frosty Morning (1813), which is based solely on the mesmeric effects and ambience of light.
In the advanced years of his career, Turner's style remained steadfast, still giving less and less attention to detail, as it started to become more lifelike, beginning to assume a suggestion of movement. His Sunrise and With a Boat between Headlands, and Norham Castle, are both examples of slightly brushed canvases, exuberating mere colour notations. In some of the famous later paintings, Turner approaches the witting subject of modern technology. He pays tribute to the passing age of sail ships that were soon to be replaced by steam-powered vessels. He then shifts away from the marine genre and draws focuses on the railway in Rain, Steam, and Speed – the Great Western Railway (1844). All forming a prime and grand example, of how Turner paid attention to colours, as well as, the idea of fluidity through his whirling colours.
In synopsis, we get to see that the artist's first exhibited works were carefully rendered watercolours of English sites of interests, garnered from consistent use of first-hand observations. His adept watercolour techniques would soon lay the foreground for his oil paintings yet to come. From the years 1810 to 1820's, Turner instigated technical experiments that ran counter to widely accepted theory. While working on rather a small scale topographical works, Turner gave impression of forms by carefully layering blocks of colour in accordance with his own system of light and dark colours that were portrayed in contrast with the accepted notions of colour theory during the contemporary period.
For finer detail enhancement, Turner worked the canvas while both wet and dry. By scrapping, blotting, and wiping on wet canvas. And scratching and drawing while dry. His methods of water colouring carried over to his oil painting techniques, which he built up from foundations of colour. It was from working in watercolours and drawings, that influence and helped produce his unique personal style, which marked the often use of oil paint in a translucent and broad manner to create magnificent scenes of vast light and colour.
Locations of William Turner's Oil Paintings and Watercolours
Joseph Mallord William Turner (1775-1851), "The Painter of Light", left forth a significant fortune which he hoped would be put to use in support of the dreams of upcoming artists. Part of the funds went to the Royal Academy of Art, which does not now use it for this purpose, although it occasionally awards students the Turner Medal. Turner's collection of finished paintings were bequeathed to the British Nation, as he desired that a special gallery be erected to house them. This, however, did not come to pass owing an abysmal failure to agreeing on a site, and then came the parsimony of British government.
However, 22 years after his demise, the British Parliament passed an Act allowing forth his painting to be lent to museums outside London. And so began the appalling process of scattering his work, pictures of which Turner envisioned be kept together. In 1910, the main portion of Turner's Bequest, consisting of drawings and unfinished paintings, were rehoused at the Duveen Turner Wing at Tate Gallery. In 1987, The Clore Gallery, a new wing of the Tate, was specifically opened to house Turner's Legacy, although some of the most significant paints in it remain in the National Gallery in contradiction to Turner's wish that the finished paints be housed and shown together.
In 1974, The Turner Museum in the USA was founded by Douglass Montrose-Graem to house his beautiful collection of Turner prints. Later on, in 1984, a prestigious annual art award debuted, The Turner Prize was created in Turner's honour, but became increasingly controversial owing to that it promoted art that had no apparent connection to Turner's. In 1975, Selby Whittingham founded the Turner Society at Manchester and London in 1975. Thereafter, the society endorsed Tate Gallery's Clore Gallery Wing as the outright solution to solving the controversy surrounding handling Turner's Bequest.
Selby Whittingham resigned and forthrightly founded the Independent Turner Society. Twenty years later the Royal Institute of Painters in Water Colours founded the Winsor & Newton Turner Watercolour Award. A major exhibition, i.e. Turner's Britain, with materials – including The Fighting Temeraire – on loan from around the globe, was from 7 November 2003 to 8 February 2004, was held at Birmingham Museum & Art Gallery. In 2005, in a public poll organised by the BBC, Turner's The Fighting Temeraire was voted Britain's greatest painting.