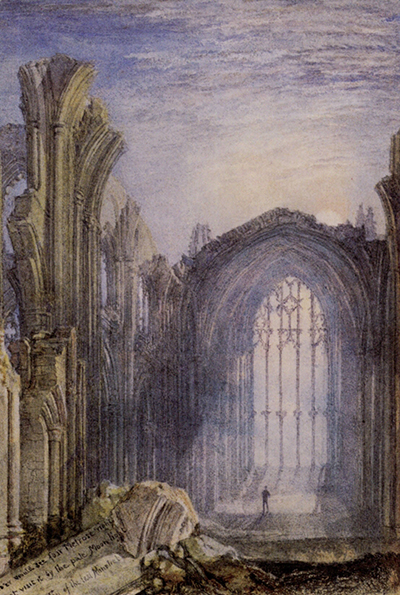 Buy Art Prints Now
from Amazon
* As an Amazon Associate, and partner with Google Adsense and Ezoic, I earn from qualifying purchases.
JMW Turner was amongst the most famous watercolour painter in history, but most focus is still given to his work with oils.
The charming medium of watercolour painting was ideally suited to capturing the beauty of the English countryside, which was a major element of his career.
Prominence of Watercolours as a medium
The period of Turner was also the period of Watercolour, particularly within the UK where it was becoming seen as a valuable artistic medium within it's own right. This artist's skills with watercolour enabled him to achieve a rare vibrancy along with the transparency effects synonymous with watercolour. He put this to good use in creating landscape scenes from beautiful spots in Britain and Italy, leaving his career as a combination of English meadows and Venetian lagoons.
The qualities found within his work as well as the sheer volume of Turner watercolours has meant that this medium has been addressed specfically in some recent exhibitions. An interest in watercolours remains despite an abundance of oil-based artists in the present day.
Some of Turner's watercolours would be used as the basis for engravings, predominantly English landscapes and illustrations for various publications. Walter Scott, Lord Byron and Samuel Rogers all made use of his work within their own. His drawings would also appear in some prints of the Bible.
The apparent simplicity of the watercolour medium fools many into forgetting of the exceptional skill used by artists like Turner to represent accurately the subject matter with correct composition and pictorial effect. Whilst his work within watercolours was initially downplayed, there is now substantial momentum behind his paintings here.
Combination of Studies and Full Watercolour Paintings
Many of these artworks were termed "finished watercolours". It is a form of drawing which held multiple benefits during the era of Turner - they were highly suitable for public exhibitions across the UK, they would also prove popular as commissioned pieces because of the impact that they could also have in a private residence and finally, as discussed earlier, they could be reproduced multiple times through engravings. Durer's engravings and Rembrandt's etchings provide some of the finest examples in this artistic medium, but for Turner they were less significant than his work with oils and watercolours.
It was these finished watercolours which attracted attention to his career in this medium during his own lifetime, with watercolour sketches and studies only appearing later. As more research has been completed into his productive career, more and more study pieces and unfinished artworks have been discovered and documented.
Use of Watercolours in Commercial Art
Prior to the use of watercolours by Turner and several other significant British artists, around the late 1780s, it had previously been used predominantly in other forms of employment such as topography and architecture. This medium provided many with an opportunity to quickly produce impressive work but without the issues surrounding oils, such as porting instruments inconveniently around.
Oils would also require long periods to dry (hence the arrival of acrylics) which was not suitable to some of the uses listed here. Turner himself, for example, loved to carry his sketchbooks with him and make use of any spontaneous artistic urges that might crop up during his travels. The combination of pencil and watercolour allowed him control of colour and detail, and also quickly put together study pieces which might be expanded upon at a more convenient location.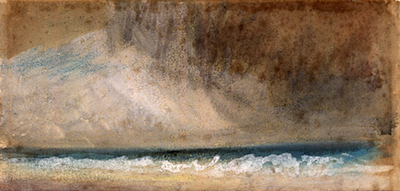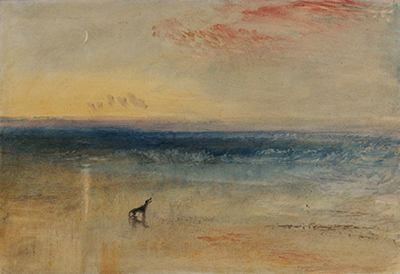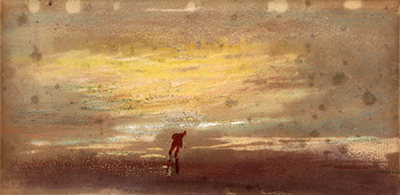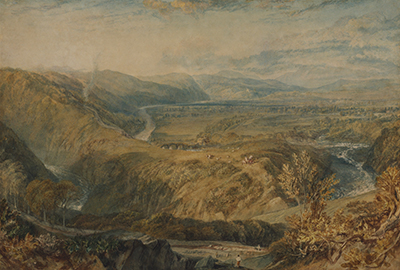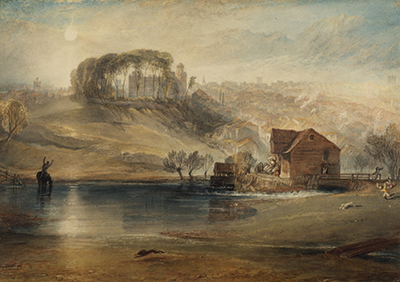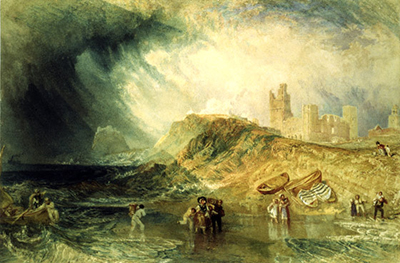 Commercially, watercolours were soon to draw interest from exhibition curators, being very easy to store and transport compared to the other notable mediums of that time. They can also be produced more quickly and to order, thus ideal for an exhibition based on a specific theme. Also as famous British names would take to this growing art medium, exhibitions would feel obliged to reflect increase its prominence across their content. One frequent request was for artists like to Turner to record various locations that were significant to the customer, such as from their recent travels. To create each one in oils would be expensive and very time consuming.
Towards the end of the 18th century his reputation for watercolours was fully established and he held 60 orders for future work at one point in 1899. Several years later he would even have an empty studio, such was the incerasing demand for his work. Early orders for his work came from the likes of Edward Lascelles of Hareqood, William Beckford of Fonthill, Sir Richard Colt Hoare of Stourhead and Walter Ramsden Fawkes of Farnley Hall. Aristocracy and landed gentry dominated the circles of the rich until the following century, with them being joined by wealthy businessmen and professionals.
Watercolour Techniques used by Joseph Mallord William Turner
The early influences on Turner through watercolour was Thomas Malton Jr, Edward Dayes, Thomas Hearne, John Robert Cozens, Thomas Girtin and Michael Angelo Rooker. The latter, who lived from 1746 - 1801 is considered to have had the greatest impact on a young William. It was as early as 1792 that the young budding artist first came in contact with the work of Rooker, through Battle Abbey in a Royal Academy Exhibition. It was the way in which he captured elements of architecture through watercolour that particularly excited Turner. Christ Church, Oxford is one of the earliest examples of Rooker-influenced work from Turner, using a similar approach to capturing detail across masonry as he had witnessed in the earlier exhibition. The confidence that this young artist uses these new techniques is extrordinary and marks him out as someone who would continue to push the boundaries of watercolour techniques throughout his career.
Turner would use a technique known as the 'scale practice' for his watercolours and also for some of his later oil paintings. This would involve spreading individual tones across his painting before moving on to his darker tones. This was more efficient than layering one item of the painting at a time and then moving on to the next. This was not only quicker for individual paintings, but could also be used to create a conveyor-belt of multiple artworks, quickly boosting the artist's income. The decision to follow this path of production explains how artist Turner was able to produce 1,800 finished watercolours and thousands of rougher pieces alongside all his other work with oil and pencil.
---
References: Elements of this content were adapted from Turner - The Great Watercolours, published by the Royal Academy of Arts, London, 2000.