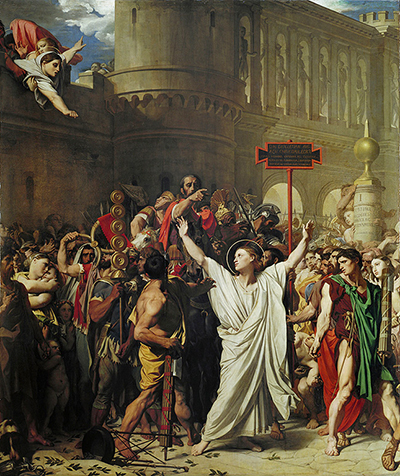 Buy Art Prints Now
from Amazon
* As an Amazon Associate, and partner with Google Adsense and Ezoic, I earn from qualifying purchases.
This biography unveils the route taken by Jean-Auguste-Dominique Ingres to become one of the finest Neo-Classicist artists in France and also influence generations of future artists across Europe.
Ingres considered himself a defender of traditional artistic values against the explosion of French Romanticism, but from where did this passion for ancient art and literature come from? We do know that he learnt much from his time in Italy, where he lived for many years. It was here that he was able to study the Renaissance in great detail, with Raphael being his favourite artist of all. He also learnt considerable amounts as a student in the studio of Jacques Louis David, who shared relatively similar tastes. His own father was his very first experience of art and design, with a young Ingres studying his dad's work and reproducing it endlessly before being exposed to other artists having shown great promise. There is also a similarlity between his work and that of another French artist, Nicolas Poussin.
The Early Life and Career of Jean-Auguste-Dominique Ingres
Jean-Marie-Joseph Ingres, his father, was a moderately talented amateur artist who experimented with all manner of different mediums and perhaps had more ambition and enthusiasm than he did technical skills. That said, his passion soon rubbed off on his young son who immediately showed promise. Having made hand drawn copies of some of his father's work he would immediately be set free through various stages of education in order to quickly broaden his knowledge of the history of art and also various artistic techniques. Ingres Jr studied at the Fine Arts Academy in Toulouse before moving on to Paris, the most significant centre for art right across Europe at this time. Having entered the studio of Jacques Louis David in around 1797 he quickly built a reputation for promise and clear natural talent. He would soon be invited into the highly prestigious École des Beaux-Arts. He then earned the much-prized Prix de Rome that allowed him to take up residence in Italy on a scholarship.
Prior to heading off to Italy Ingres was able to achieve a notable commission in the form of a portrait of Bonaparte as First Consul. His reputation was purely as a portrait painter at this stage but to be linked with such a figure was a huge boost for his career. Napoleon I on His Imperial Throne (1806) would soon follow, along with a plethora of charming depictions of several women of similarly high status. Sadly his style was judged as old-fashioned by critics and it was to be the first of a number of conflicts like this that he experienced throughout his career. He therefore embraced his journey to Italy in 1806, a country that he knew would be more receptive to his artistic style.
The Middle Period of Jean-Auguste-Dominique Ingres's Career
France would rule over parts of Italy during Ingres' time there and, as such, he was able to continue his connection to Napoleon and the ruler's dignatories, allowing for a steady stream of valuable commissions to arrive at his door. He loved his new home and chose to remain even after his initial scholarship funds had run dry. Besides portraits he would also start to receive commissions for large scale history paintings too, which allowed him to take on more ambitious compositions. His skills as a draughtsman allowed him to plan each of these artworks meticulously, prior to starting the main oil painting itself. His artistic reputation even led to some occasional consultancy work with regards palacial interiors.
The fall of Napoleon led to a significant loss of key contacts for Ingres and forced him to lower his ambitions work-wise. He had to adapt to this change in circumstances and was forced to revert back to producing portrait sketches of tourists in order to keep his head above water. It was a real fall from grace when compared to the grand history paintings that he was previously producing, and he felt particularly unhappy with his new line of production. He planned to return to his previous types of work once the political environment had again stabilised. He would have to be patient, for there was no-longer the funds to pay him for such work, nor the connections that he required in order to be chosen for these ever reducing number of projects.
La Grande Odalisque was completed in 1814 and is considered by many to have been Ingres' most significant painting, from right across his entire career. Whilst appreciated today, it too received huge criticism amongst the art world of the time, who considered it unrealistic and old fashioned. To be mocked for such a beautiful painting would be hard for any artist to accept but it was particularly so for Ingres who held a famously sensitive character. Why was an artist who was awarded the Prix de Rome at such a young age still unable to gain acceptance for his work? It all seemed completely unfair to him, but he would never move away from his artistic principles, whatever the cost.