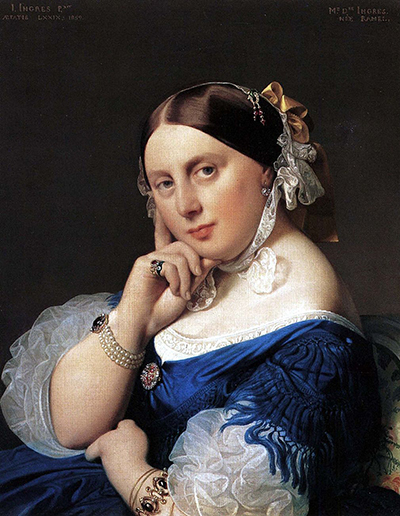 Buy Art Prints Now
from Amazon
* As an Amazon Associate, and partner with Google Adsense and Ezoic, I earn from qualifying purchases.
This portrait of Madame Ingres was completed by her husband in 1859. It is one of a number of portrait oil paintings that he produced of her, as well as a plethora of study drawings that supported this work.
Delphine Ramel, who we find here, was actually Ingres' second wife. She was the daughter of Dominique Ramel and also closely related to Charles Marcotte d'Argenteuil. At this point in European history women were still being introduced as the wife of, or relation of, with little respect for their own qualities or achievements. Thankfully, this is not quite the same today. That said, Ingres is still respectful of his partner in this painting and captures many of her qualities that have also been mentioned in other supporting documentation. Despite her grand connections, she was regarded as warm and down-to-earth, approachable and friendly. He attempts, perhaps successfully, to communicate that in this portrait.
If you look closely, you will see in the top right of this painting that the artist has appended several pieces of information about it. Her identifies the model, and perhaps the other words relate to the date, location or perhaps a number of identification. Ingres' portraits would concentrate on attire more than body structure. See the detail in this piece, stunning jewellery alongside frills on her otherwise blue, elegant dress. She looks relaxed, leaning on her hand with additional facial touches of ribbons, rings and bracelets. She is clearly not understated in appearance, but her personality still shines through as informal and relaxed.
The original painting from 1859 can now be found at Am Römerholz in Zurich, Switzerland. Their collection was initiated by a generous bequeth from Oskar Reinhart and the overall group of work is ultimately at the disposal of the Swiss state. Those looking to visit this location will also find work by the likes of The collection owns paintings by artists including Pierre-Auguste Renoir, Edouard Manet, Théodore Géricault, Camille Corot, Honoré Daumier, Jean-François Millet, Edgar Degas, Camille Pissarro, Matthias Grünewald and Pieter Brueghel the Elder in the permanent collection.