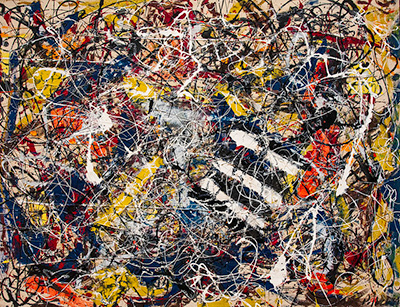 Buy Art Prints Now
from Amazon
* As an Amazon Associate, and partner with Google Adsense and Ezoic, I earn from qualifying purchases.
This artwork offers an insight into how Pollock developed his drip painting technique over time
This piece of abstract art was created in 1948 by famous American abstract expressionist painter Jason Pollock. It was done with oil paint on a fiberboard canvas.
It is example of Pollock's drip painting series, and one of the earlier pieces in this series.
No 17A. lacks any sort of creative title and is one of the best examples of the radical and exceptionally unique art form of drip painting, which Pollock introduced to the world in 1947.
Even though such a painting appears to happen at random and spontaneously, one can actually track the precise movement and control Pollock had in creating this piece.
Initially these drip paintings by Pollock were met with great public scrutiny and were mostly unpopular and therefore had low value in art markets.
The art world had very mixed reactions to his paintings as well and reviews were polarized. His first series of drip paintings debut at the Betty Parsons Gallery in New York City in 1948.
Less than a year later Pollock appeared in an article in Life Magazine with the headline "Is he the greatest living painter in the United States?"
In early 2016 this famous piece was purchased by billionaire hedge fund manager and art collector Kenneth C. Griffin for an estimated $200 million.
This makes No. 17A the fourth most expensive painting ever sold in history. Before its sale, the painting had been on display at the Art Institute of Chicago.
The painting is most likely currently on display in one of Griffen's private homes. Griffen is a known avid art collector and owns some of the most expensive paintings in the world including Willem de Kooning's Interchanged and False Start by artist Jasper Johns.