Posters are great options for those wishing to enjoy abstract art in their own homes. Pollock is one of the most reproduced of all artists from the 20th century and this page covers some of the Pollock prints and posters currently available from approved retailers. The Art.com and Amazon gallery orders prints and posters by popularity as default, which means you can quickly see those that others love first. Typically this includes Convergence, the best known painting that Pollock produced, as well as other prominent paintings such as Mural, Blue Poles and The Deep. You will find a selection of sizes and finishes. Those looking for a professsional framed finish, will also find plenty of options there too. We make small commssions from items that you might purchase from the links included in this website, which are provided by Google, Art.com and Amazon.
Pollock remains one of the most popular artists from the contemporary art scene, though today there is a remarkable variation in taste which makes the art world far more interesting and accepting of different styles. See for example the popularity of impressionist artists too, as well as other abstract artists who produced work using different medthods of expression. There is graffitti art today, such as with Basquiat prints, as well as more traditional landscape paintings - see Monet prints for examples of that. You might also look to buy some posters of original Klimt paintings, which are beautiful and enchanting. They came around at the start of the 20th century, as new ideas were starting to appear after finding inspiration from the developments made by the French Impressionists. Klimt's highlights included the likes of the iconic The Kiss, as well as The Tree of Life which took in a common theme used in religion and mythology.
There are many different art products out there in the market and we recommend posters for those who do not have huge budgets, or perhaps need a number of art prints in a short space of time. This can happen when moving into a new house for the first time, and needing plenty of decorations that you don't already have. If you were to order framed prints for each and every new room, this could prove extremely expensive where as a few posters should be able to avoid any large outgoings. Additionally, the posters can normally be sent rolled and so shipping costs are far lower too. Most art retailers will offer both of these options as there is not much difference in the production process and it also enables them to handle differnt types of customers. You may also have the situation where people can order gifts for others together in the same online basket, but with different requirements for different people.
When one thinks about posters, halls of residence in universities and colleges spring to mind. They can be of musicians or political statements, but also more famous art. There are often markets and temporary stores which offer these at very affordable prices and Pollock's own work appeals particularly to younger generations because of its freshness, even though his career took hold several decades ago. The same can be said for Rothko prints as well, though some still prefer the more traditional art, particularly if they have a love of nature or are religiously minded. It is only later that art students then tend to broaden their horizons and learn about what came before, and also start to understand just how important those earlier works were in moving us towards all the exciting art that we can enjoy today. For example, you will still find some of the most famous paintings from the Renaissance on young people's walls, such as Mona Lisa or the Creation of Adam.
There is a minimalist style within most modern homes and this means that a small print or poster can be essential in adding interest to each room, otherwise things might look a little too bare. Posters also offer you the chance to have larger reproductions as prints tend not to be offered too big as these can be awkward to then ship at that size. You might want something large as if a form of decoration, where not much detail is needed. Smaller prints can be moved around more easily and you might have several together on the same wall in some cases. Posters can be moved around from time to time in order to freshen up each room though over time they are likely to fade from natural light because they do not have any cover over the top to protect them. More expensive prints can offer glass or plastic covers which reflect light and keep the artwork brighter for a longer period of time, though much depends on the position in which each piece is actually hung in relation to sunshine.
Pollock used different styles during his career but some of the highlights included below concentrate on his exciting drip paint technique which left behind busy and dramatic arrays of line and colour that would be pretty much impossible to recreate by hand. His work was unique and each piece within that could never be repeated as he did not work in the traditional way that he would have been taught as a budding art student. Each painting therefore represents a specific moment in time that has passed and an experience that only he could understand. We are left with being able to enjoy these pieces and viewing some of the originals in person, most of which still reside in his native USA, even though his reputation has spread much further than that.
Popular Jackson Pollock Posters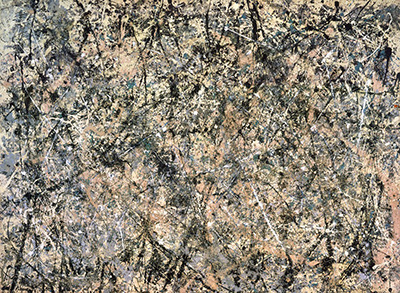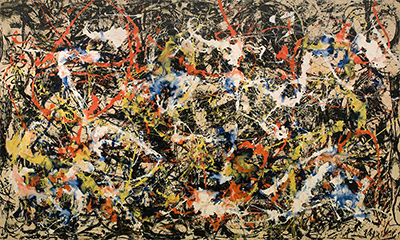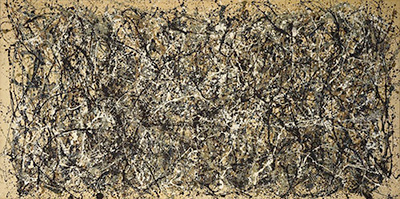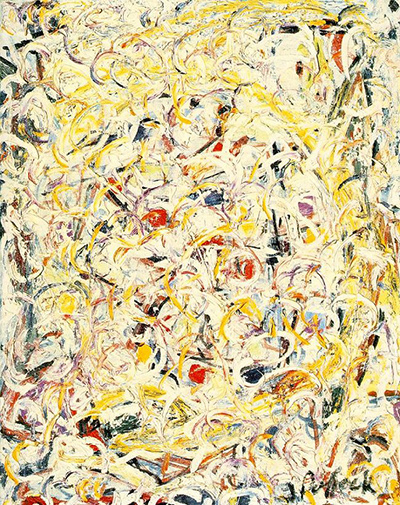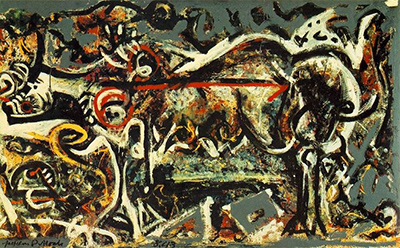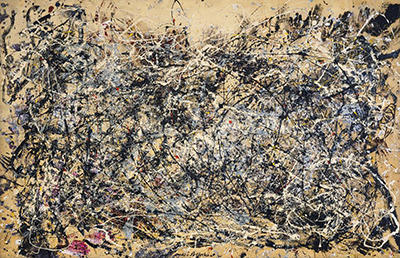 Full List of Jackson Pollock Posters and Prints
Listed below are some of the Jackson Pollock posters currently available from Art.com.
Male and Female
Stenographic Figure
Mural
Moon-Woman Cuts the Circle
The She-Wolf
Blue (Moby Dick)
Troubled Queen
Eyes in the Heat
The Key
The Tea Cup Collection
Shimmering Substance, from The Sounds In The Grass
Portrait of H.M.
Full Fathom Five
Cathedral
Enchanted Forest
Lucifer
Painting
Number 5
Number 8
Composition (White, Black, Blue and Red on White)
Summertime: Number 9A
Number 1
Number 3
Number 10
Number 1, 1950 (Lavender Mist)
Mural on indian red ground, 1950
Autumn Rhythm (Number 30), 1950
Number 29, 1950
One: Number 31, 1950
No. 32
Number 7
Black & White
Convergence
Blue Poles
Portrait and a Dream
Easter and the Totem
Ocean Greyness
The Deep