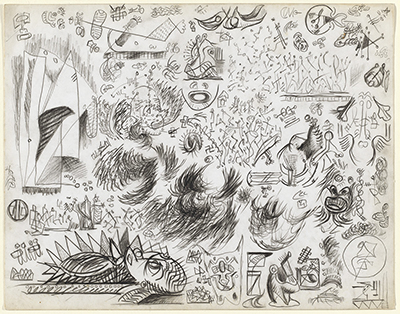 Buy Art Prints Now
from Amazon
* As an Amazon Associate, and partner with Google Adsense and Ezoic, I earn from qualifying purchases.
This exciting flurry of shapes and lines is one of Jackson Pollock's best known sketches, and was an untitled sheet of studies. The artist would often try out new ideas on paper before later developing them in oils on larger canvases.
Pollock revealed later in his life that many of his abstract paintings were actually based initially on genuine forms from the real world, but that over the process of developing a painting and adding new layers of paint, many of these forms would no-longer be recognisable. The drawings therefore offer us an insight into some of these early ideas before they have become covered in further layers of paint, as Pollock sketches directly from his mind and works entirely naturally. We also know that he was encouraged at times to work without thought, similar to the Surrealists who would work using an automatic style of sketching which attempted to connected with their subconscious mind. In recent years there has been greater efforts to display some of his drawings alongside paintings where they hold a clear connection and this allows visitors to get a better understanding of how the different mediums in which he was involved were linked together.
The artist uses a black pencil on paper here, nothing more, and this leaves a clear contrast for each shape against the light coloured background of the paper. The sheet itself is around 30cm tall and wide, though in the landscape format found with most drawing pads of which this likely was a part initially. The item was also featured in a 2016 exhibition titled Jackson Pollock: A Collection Survey, 1934-1954 which was one of the better displays for addressing this artist's sketches, etchings and screenprints. Within the composition itself we find a series of constellations that will remind many of the work of Miro, as well as some figures, portraits and some geometric combinations of shape and line which are harder to pin to anything from reality.
Untitled (Sheet of Studies) can be found in the collection of the Museum of Modern Art in the US, which contains one of the highest profile collections of work in the world and is particularly impressive in its focus on 20th century art, and all the new ideas and techniques that appeared during that period. They hold nearly one hundred items from Pollock's career alone, including a number of well known paintings as well as drawings such as the one included here. Besides that, other highlights include the extraordinary cubist creation of Les Demoiselles d'Avignon from 1907 by Pablo Picasso. There is also the equally iconic The Persistence of Memory by Salvador Dali to be found here as well and we do know that Surrealism had a large impact on Pollock in certain periods of his development.