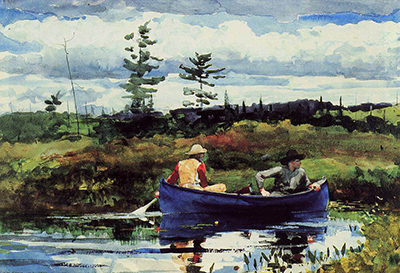 Buy Art Prints Now
from Amazon
* As an Amazon Associate, and partner with Google Adsense and Ezoic, I earn from qualifying purchases.
Painted in 1892, the Blue Boat by Winslow Homer is a watercolour over graphite pencil on paper painting of size 38.6cm x 54.6cm. The image is an outdoor scene depicting two men in a blue boat floating on a water body.
They seem to be fishing along the banks of the water body. One man at the back is still paddling, while the one at the front enjoys viewing the surrounding as depicted by his pose. Both have a dressing code that is similar to that of rural America at the time of the painting. The style used in the painting is realism, as it shows the real-life of rural America at that time. Realism was a mid-nineteenth century movement that involved paintings of subjects in their everyday life in a naturalistic manner. Homer departed from impressionism to realism to produce realistic images of American life in the 19th century. He was excellent in illustration, watercolours and oil paintings, and he impacted watercolour artwork with a unique and natural style of depicting the atmosphere. His perfect use of colour assisted him in presenting everything into details, including motion and the surroundings.
In this image, Winslow Homer painted in a perspective of a viewer who is a distance away to capture more details such as the sky, water, and the surrounding vegetation. The current location of the artwork is The Museum of Fine Arts in Boston, USA. The Museum is one of the most comprehensive museums in the world, with nearly 450000 artworks. The first private owner of the painting was Doll& Richards of Boston in 1892 followed by Francis Shaw of Boston and later by Dr William Sturgis in 1922. DR William gave it to MFA as a gift in 1926.
Homer primarily taught himself about art when working as a commercial illustrator. He would contribute illustrations of Boston life and that of New England to magazines like Harper's Weekly and Ballou's Pictorial. Homer also reproduce oil paintings into major studio works and practised a lot with his watercolour painting. He also attended classes at the National Academy of Designed, where he briefly studied the basics of painting with Frederic Rondel as his teacher.