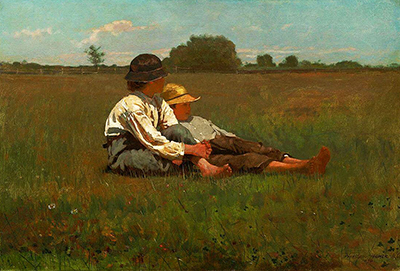 Buy Art Prints Now
from Amazon
* As an Amazon Associate, and partner with Google Adsense and Ezoic, I earn from qualifying purchases.
Winslow Homer was an outstanding American landscape painting artist who learned American art through an apprenticeship with a Boston-based lithographer. Due to his talent and gift in oil painting, his mother attempted to take him for further studies in Europe.
However, Harper's, a magazine that he painted for, took him to make paintings during the American Civil War regarding the battle scenes. Immediately after the War ended, Homer started painting on scenes of childhood. Winslow Homer´s Boys in a Pasture that he painted using oil painting in canvas in the year 1874 in rural America shows two young farm boys resting in a farm field in the American countryside. The painting depicts a nostalgic, joyful, and innocent moment for the boys just after the Civil War.
The painting also depicts flourishing grass in the vast and endless pasture field. He depicted several trees that stood some distance away from the two boys. The children who had brown and yellowish-brown bonnet relaxed on the ground freely, staring as if they were missing their home and their kin. The painting shows two boys in that period, who appeared carefree and who were having an enjoyment of their childhood. Winslow could have painted this art because of varies reasons. The young boys seemed utterly innocent, depicting how Homer was taken back into his young age.
Among the reasons why Winslow chose painting, this art was since he was brought up on a farm, and he used to get cattle from the pasture. He, alongside his cousins, used to trek to the field each day during summer to take the cows to the family pasture farm. Homer reflects on all the moments when their only responsibility was just about themselves. They used to play on the pasture fields for long hours. The painting portrayed Winslow´s reminiscence regarding personal childhood, and it also portrayed hope about a brighter future taking into consideration the fact that he painted this art soon after the ending of the American Civil War. Winslow was inspired to paint this art by the American rural scene that portrayed simple livelihood, peace, and serenity.
The majority of Winslow´s art paintings were relatively bright. Just like most of his paintings, Boys in a Pasture depicts Winslow´s skill in how he used color to represent the mood of a scene. In this particular painting, Boys in a Pasture, Winslow´s scene of young boys relaxing and playing represents hope for the future. Winslow painted this art from a vantage point, raising the horizon and giving the pasture an increased feeling of freedom as well as boundlessness.