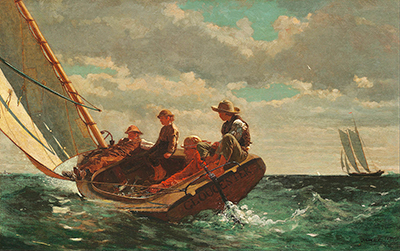 Buy Art Prints Now
from Amazon
* As an Amazon Associate, and partner with Google Adsense and Ezoic, I earn from qualifying purchases.
Breezing Up (A Fair Wind), an oil painting, was executed by Winslow Homer between 1873 and 1876. The painting measures 24.2 in by 38 inches and is located at National Gallery of Art in Washington, D.C.
Details of the Painting
The artist started the canvas in 1873 while in New York after visiting Gloucester, Massachusetts, where it was his first time to work in watercolour. Homer used the sketches executed there for the oil painting. Infrared reflectography has shown the many changes the artist made to this composition, including a second schooner seen in the distance and a 4th boy being removed near the mast. At a certain time, the adult was holding both the tiller and the sheet, a position originally adapted form an 1874 oil study called The Flirt.
The painting depicts life on the coastal water during a breezy day. It's rich in shadowing colour and detail. In the painting, there is a man and three boys on a catboat enjoying ocean waves. The catboat has one sail; the boy who is manning the till seems relaxed that he's steering with one hand.
Significance
The painting was completed in 1876 - America's centennial year - and captured the spirit, look and hope of life in the United States. The painting was also a favourite at the honorary association of American artists, National Academy of Design, then at the Centennial International Exhibition held in Philadelphia. As a result, many critics started speaking of this painting and its name was shortened and was now called Breezing Up.
Interpretation
The relaxed atmosphere shows that the ocean waves are not bothering the boaters as they enjoy life on the water. The artist message is positive. The anchor on the boat that replaced the 4th boy is a symbol of hope. The way the boaters are all looking forward to the horizon symbolises optimism and great expectations for young America.
Influence
The painting has a Japanese influence, which can be seen by the compositional balance that the artist used. The left half is more active while the right has little focal content. The painter had visited France twice - in 1866 and 1867; the influence of Claude Monet and Gustave Courbet's marine scenes is also apparent. Winslow Homer works strongly influenced succeeding generations of painters in the United States for their energetic and direct interpretation of the stoic relationship of man to a neutral or harsh wilderness.