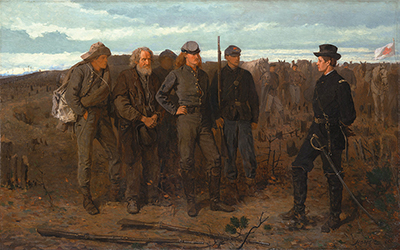 Buy Art Prints Now
from Amazon
* As an Amazon Associate, and partner with Google Adsense and Ezoic, I earn from qualifying purchases.
Homer was able to visit the Union front two times during the Civil War when working as an artist correspondent attached to Harper Weekly. Prisoners from the Front was painted by Homer after the war came to an end. The canvas is meant to depict a scene where the Confederate soldiers got captured by Brigadier General Francis Channing Barlow.
The soldiers and officers were captured in May 1864 during the Battle of Spotsylvania Court House which occurred in Virginia. It's a canvas that's also meant to symbolize the ideological rift that existed between the South and the North. This can be seen in the physical distance existing between the participants, as well as their contrasting postures. Prisoners from the Front was among the works that helped to establish the reputation of Homer. This was during New York's National Academy of Design's annual exhibition which took place in 1866. Homer would later go on to receive further critical acclaim at the Exposition Universelle in Paris which occurred in 1867.
Numerous research work and infrared imaging conducted on Prisoners from the Front shows that Homer spent a lot of time working on this particular canvas. The oil painting which was worked on after the war appears to have undergone some changes before it was finally completed. The artist can manage several minor but crucial nuances that assist in creating a breathtaking picture. When looked at closely, the viewer can almost hear the dialogue occurring between the people depicted in the picture. Further works created by Homer haven't depicted too many battle scenes.
In all the artist's war stories, Homer appears to be more interested in the inner aspects or rather the scenes taking place behind the war, which is commonly known as the "human factor." For this particular canvas, the artist has used the Battlefield in Petersburg, Virginia as the main backdrop to this painting. The main emphasis for this particular war story is on the people that the artist was able to depict when creating the canvas. It focusses on the inner, and more emotional drama happening between its participants. What's even more interesting is that the painting not only manages to capture real people but also focuses on a single specific day—the day when Union General Francis captured the confederates (June 21, 1864). Homer was able to masterfully depict how all the participants got involved in the whole war: from a bearded—gray-haired old man ready to accept his fate to young and insecure boys who were just taking part in their very first war.