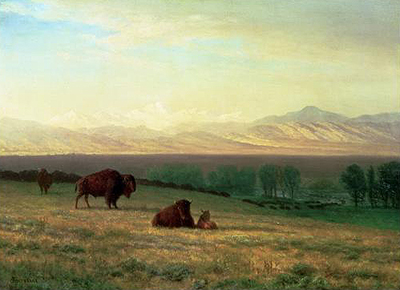 Buy Art Prints Now
from Amazon
* As an Amazon Associate, and partner with Google Adsense and Ezoic, I earn from qualifying purchases.
Albert Bierstadt uses colour to great effect in Buffalo on the Plains.
The artist completed this painting in 1890 and it will immediately take the viewer to a more relaxed place, where they can appreciate the majesty of the outdoors. This allegorical painting was one of his last major works. It focuses on a theme of imminent extinction. Soft blues in the sky contrast with the strong images of buffalo. The bison seem to be few in a land which should be rich with them. Bierstadt was born in Germany but he moved to his new home in America as a child.
His appreciation of nature is seen is his paintings, which portray the American landscape in lavish compositions. As in Buffalo on the Plains, Bierstadt sometimes initially seems to focus only on the land and animals in his paintings. However, several of his landscapes also examine the effect that human beings have on their surroundings, directly or indirectly. Guerilla Warfare, Civil War places people in the natural environment while they are at war and invites viewers to examine conflict.
Buffalo on the Plains exhibits evidence of Bierstadt's early training at the Hudson River School, which was based in New York. His landscapes have a romantic element and tend to use luminism to full advantage. These features are often found in the paintings done by artists like Bierstadt and Thomas Moran, who are both associated with the Rocky Mountain School. Interpretations of the Western landscape like "Buffalo on the Plains" are an important part of culture. While they are beautiful, they also serve as a record of history, displaying the state of the buffalo at that time.
Decades earlier, artist George Catlin had appealed for greater attention to be paid to buffalo, which were in danger of becoming extinct. Army officers had encouraged the early colonists to slaughter the buffalo in order to starve Native Americans. By the time Bierstadt completed "Buffalo on the Plains", the natural resources of the American Frontier had changed and Native Americans were forced to reservations. Bierstadt tells this story profoundly in his controversial work, which was an important part of the preservation movement.