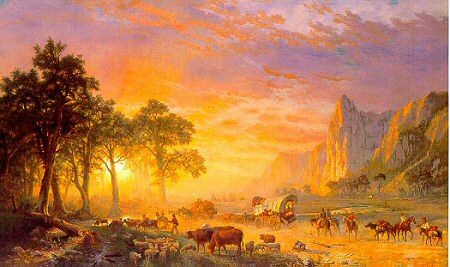 Buy Art Prints Now
from Amazon
* As an Amazon Associate, and partner with Google Adsense and Ezoic, I earn from qualifying purchases.
Albert Bierstadt, a German born American painter, was part of the Hudson River school which favoured a romantic interpretation of landscape, often illuminated by rays of lambent light. Much of his work, like this picture, invoked scenes of the American west.
This iconic picture, Emigrants Crossing the Plains, one of his most popular, was painted as a direct result of studies that he made during land surveying trips made in the 1850s. It is typical of his expansive, panoramic style, which reflected the majesty and vastness of the American West, and it is bathed in the dramatic colours and warm lighting that were characteristic of his art. The painting is executed in a highly detailed naturalistic manner that had immediate appeal at the time and, along with the public and critical approval of his other pictures, led to his financial success.
The image portrays the migration of pioneers into the West along the Oregon Trail. Taking place in the mid 19th century, this is one of the most stirring chapters of foundational American history, and is evoked in the famous phrase, 'Go West young man, and grow up with the country.' Bierstadt was enraptured by the natural surroundings of the plains and especially the Rocky Mountains, which he compared in beauty to the Alps, and are here rendered as stately guardians, bathed in the glowing sunset, towering protectively over the wagon train.
They recede to the far horizon and seem to lead the pioneers on through the trees and past the native American encampment in the middle distance, towards the promise of the gently setting sun which hangs like a beacon over the hoped for destination. The painting evokes perseverance and fortitude. Driving into the unknown of the untamed wilderness there was the ever present fear of failure and death in the vast landscape, which the bleached bones in the foreground warn of. But the pioneers, driven in their plight by the hopes of future prosperity, are depicted forging through the majestic wastes in an image of courage and tenacity.