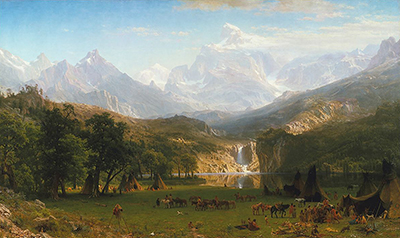 Buy Art Prints Now
from Amazon
* As an Amazon Associate, and partner with Google Adsense and Ezoic, I earn from qualifying purchases.
The Rocky Mountains, Lander's Peak
When Albert Bierstadt exhibited The Rocky Mountains, Lander's Peak in 1863 it was wildly popular among both critics and the public. Close to one thousand people attended the single-piece exhibition and two years later it sold for an impressive $25 000. This piece cemented Bierstadt's place as the most illustrious painter of American West landscapes through the end of the 19th century. Bierstadt was born in Germany and moved with his family to Massachusetts when he was a child. While he spent his formative years as a painter in Europe, it was his paintings of the American West which brought him true acclaim. See also Storm in the Rocky Mountains.
In 1859 he travelled with the Honey Road Survey Party, led by Frederick W. Lander. This was his first expedition to the West. He made a huge series of sketches, upon which he based his subsequent paintings, including The Rocky Mountains, Lander's Peak. The mountain featured in this piece was named Lander's Peak at Bierstadt's behest after Lander was killed in the Civil War. It is part of what is now the Wyoming Range. Few artists have done more in promoting the beauty of the American landscape, with Ansel Adams and Georgia O'Keeffe being two other notable contributors.
Bierstadt's work was popular with Americans of the time as it showed an idealised version of the American West that was majestic but still wild. Influenced by his fellows in the Hudson River School, Bierstadt used soft, glowing light that highlighted the natural beauty of the landscapes he painted. In this piece he has also manipulated the landscape itself to add drama rather than painting the mountain range exactly as it appeared. This piece has often been compared to The Heart of the Andes, a similar painting of the mountain range in South America by Bierstadt's rival Frederic Edwin Church. The two artists' styles share many similarities and both pieces are painted on huge canvases just over 3 metres wide. They now hang in the same gallery in The Metropolitan Museum of Art on Fifth Avenue in New York.