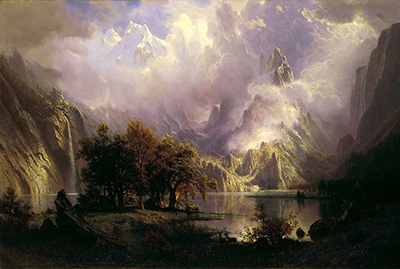 Buy Art Prints Now
from Amazon
* As an Amazon Associate, and partner with Google Adsense and Ezoic, I earn from qualifying purchases.
Albert Bierstadt painted Rocky Mountain Landscape in 1870.
This iconic landscape painting was created entirely from memory, as Bierstadt had been to the area seven years previously. The image was transformed to canvas from studies of the area that had been made in 1863. This was his second visit to the Rocky Mountains. Rocky Mountain Landscape is a dramatic and panoramic painting. What Bierstadt managed to achieve was a distinctly beautiful and exaggerated landscape painting, that was based upon a few basic pieces of information that he had gained during his trip. Ansel Adams also captured the Rocky Mountains with black and white photography.
Many believe the painting to be almost theatrical, due to its numerous artistic devices. This is observed with the dark shadows, and light tips of the mountain range, set against the lightness of the sky. When observing this stunning landscape, the eye is drawn vertically across the canvas. The eye roams from the bottom of the screen where there are deer situated to the right, upwards towards the trees and then to the vast stretch of water. Finally, the mountain peaks are observed, which are covered in a splattering of snow.
What is truly amazing is that Rocky Mountain Landscape was created as a large oil on canvas painting, from a series of rough sketches. What he captured is a realistic and almost photographic representation of the mountain range. There is so much attention to detail. We observe the ripples on the water, the ridges of the mountains and the rolling clouds that make the sky become illuminated. This entire painting is full of life, and it is almost as if we could teach in and become part of the scene. Many an artist has observed Rocky Mountain Landscape and have become completely spellbound in the image. What the observer is part of, is that of a snapshot in time, a photograph, as if they themselves had stood and taken it.