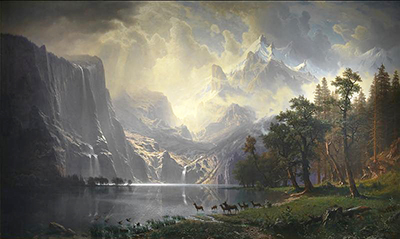 Buy Art Prints Now
from Amazon
* As an Amazon Associate, and partner with Google Adsense and Ezoic, I earn from qualifying purchases.
Albert Bierstadt completed this wonderful painting as an oil on canvas in 1868, ironically whilst he was in Europe rather than America.
Keen to show the pristine beauty of the young and exciting country, Bierstadt used the opportunity to exhibit his image of Sierra Nevada across Europe where many people were eager to see images of America, particularly as Europeans were among the potential immigrants for this new country. Albert Bierstadt was a master of publicity as well as his art. He would reveal his new images in a theatrical manner to an audience and his huge Sierra Nevada, which measures approximately six feet by ten feet, received glowing reviews wherever it was seen.
Sierra Nevada is part of a large mountain range in California, Western USA. Ansel Adams produced some stunning photography here too, including Winter Sunrise Sierra Nevada. Bierstadt captures the unspoilt beauty of the area, engaging and encouraging the viewer to admire the spectacular scene with all its intricate details and his own slightly improvised idealism. The light breaks through the clouds in an almost heavenly manner, casting shadows and playing upon the rocky ranges and glistening waterfalls. The smaller waterfall in the centre of the painting becomes the focal point and adds great depth to the expansive scene.
The overall feeling is of a calmness, wonderment and grandeur. In the darker tones of the foreground, Bierstadt adds a herd of deer and ducks taking flight. He adds their reflections in the still water. Careful brushstrokes provide leaf detail to the trees at the side of the painting. It is a image that encourages the viewer's eyes to wander over the scene, taking in all the minute details of this vast painting. The painting of Sierra Nevada now resides in the Smithsonian American Art Museum and although the popularity of Bierstadt's grand scenes declined somewhat during the early 1900s, it is now recognized for its importance to American history and for its breathtaking beauty.