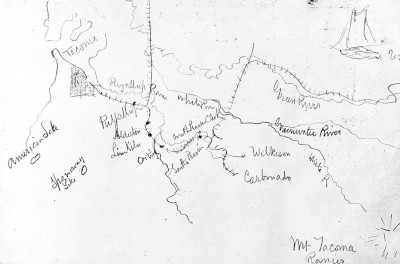 Buy Art Prints Now
from Amazon
* As an Amazon Associate, and partner with Google Adsense and Ezoic, I earn from qualifying purchases.
There has not been a huge focus on Albert Bierstadt's drawings but the ones that have survived to the present day and very important in helping us to better understand the working processes of this artist.
We do know that Bierstadt would travel many times during his lifetime, both around the US and also across Europe too. He took sketchbooks with him in order to sketch different locations that he came across, with the intention of then later turning some of them into paintings once he had returned to the comfort of his own studio. Many of these sketchbooks have since been discovered and documented, wit the larger art institutions having enough resources available to actually catalogue each and every drawing within them. The item shown here was actually a rough map that Bierstadt would have put together when planning his journey, and deciding upon where next to visit, though clearly he was navigating via the various river routes in that American region. He loved to paint scenes of rivers alongside mountains and so it is not surprising to see him planning his journey in this way.
Graphite was used for many of the sketches that we still have around today, and some of the artist's sketchbooks were actually made use of off-white woven paper which were then bound with a leather cover. Each sheet would be around 19cm in width, with the cover being of equal width and just a touch taller in height. He would sometimes share these books with others, as some have signatures of other artists within them, as perhaps he might collaborate and mix ideas with others during some of his journeys. He tended to travel with others and as his reputation grew, there would be others interested in joining him on some of these ventures. The American West was, of course, a huge region that humanity was continuing to explore at this time, and so there was no shortage of people ready to join him, though not all of these were actually fellow artists.
Besides the many compositions that the artist planned within his sketches, there are also some more interesting studies in which he would use far more detail. For example, there is a study of a ewe which is featured at the bottom of the page and although unfinished it does still give an excellent display of the other technical skills possessed by this artist that many are simply unaware of. The precision and lifelike manner in which he draws this animal is extraordinary and underlines how he was actually a highly skilled draughtsman and not simply a master of oils. That particular portrait appears to have white heightening used as well, which was a technique that had been used for centuries as a means to bringing certain details in a drawing to our attention. It was successfully used by the likes of Albrecht Durer all the way back in the Northern Renaissance.
Bierstadt would travel to some particularly wild locations for his work and it simply was not possible for him to transport all of the equipment with him that would have been required for oil painting. Back then, the equipment would also be even more cumbersome than it is today and so drawing would be a much better alternative. Others have of course chosen watercolour painting as well, but Bierstadt tended to prefer to draw in person, and then expand into oils once he had returned home. Photography was starting to become another choice but it was still in its infancy at that point, meaning one could not travel around with a small camera as we might do today. Additionally, he would even use these sketchbooks to record details about his trips, such as maps and other information and so these leather bound items served all manner of different purposes on these long and exciting journeys.
Whilst the artist would become most famous for his exceptional paintings in which incredible levels of detail would be incorporated to allow us all to imagine that we are in some of the most picturesque locations in the world, it is always important to remember the role played by drawing within his preparations. As with most masters, the fundamentals lied within this art form, and all success would derive from it. The likes of The Rocky Mountains, Lander's Peak, Valley of the Yosemite, Among the Sierra Nevada Mountains, California and The Last of the Buffalo would never have appeared were it not for the training that he initally received as a draughtsman, before he then move on to advancing his use of oils. One can also see the same in the careers of other landscape painters too, where sketchbooks were an essential part of planning compositions rather than having to drag huge amounts of equipment around across the countryside.