Bierstadt paintings are some of the best examples from the North American Hudson River School art movement which concentrated specifically on landscape painting. Alongside Albert Bierstadt were the likes of Thomas Cole and Church, but this website specifically concentrates on the best paintings to have come from the career of Albert Bierstadt, with additional information on his life included alongside images of his best work. Albert Bierstadt was entirely devoted to landscape painting and there are very few examples in his career of anything other than colourful depictions of the American landscape which he was exceptionally passionate about.
Bierstadt went to the lengths of campaigning for the protection of key areas where much of his art was completed and he eventually had a mountain named after him in honour of the great work he did and the exposure which he brought to the protection of key areas of American countryside. Bierstadt was someone who grew up in the surroundings which were to become his material for a career which achieved extraordinary success and enabled Bierstadt to surpass all other members of the Hudson River School. Founder of the art movement, Thomas Cole, is the only painter who compares in legcacy to Bierstadt and the two are regularly featured in American-based art studies of the modern era and represent an important stage in the progress of North American art.
Albert Bierstadt was respected for several different elements within his classicly American landscapes. His skies were always emotional and lively, bearing some resemblance to British artist William Turner and other highly significant painters of western countryside scenes. Bierstadt also was skilled enough to capture light brilliantly which set off many of his landscapes magically, in particular the likes of Sunset in the Yosemite Valley and Yosemite Valley Yellowstone Park. Feel free to browse our extensive gallery of Albert Bierstadt landscape paintings which comprises of around one hundred of his most famous artworks. He is regarded by some as the most important member of the Hudson River School, but he also helped draw an international audience to some of the locations that he painted across his career.
The artist became so intune with the environment that he would actually work from a studio and immediately still be able to connect to these various locations by studying some of his drawings which he made in each spot. He would carry a fairly modest sketchbook and work whenever the whim took him whilst travelling around the wild landscape of the USA. There are similarities with the European Romanticists in that regard, but Bierstadt faced initial rejection in Europe once he connected to the US. Eventually, his talent was accepted and his success helped to convince an international audience of the potential merits of American art, and from that new opportunities would follow for painters from the next generation. Today his most famous paintings take prominent positions within some of America's most prestigious art galleries and museums and his legacy can be considered just as strong as it ever was.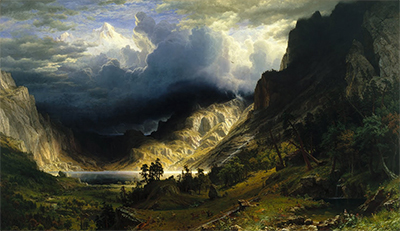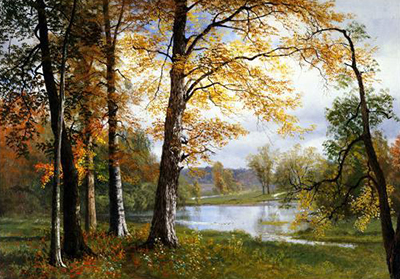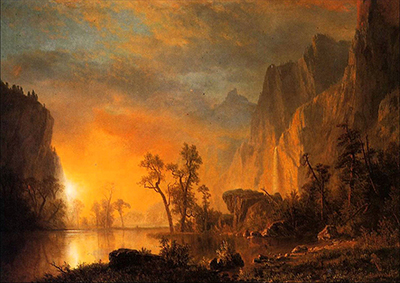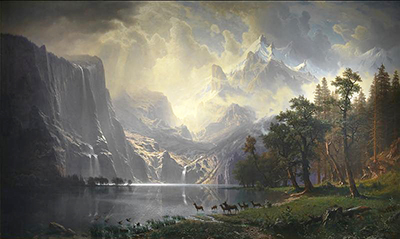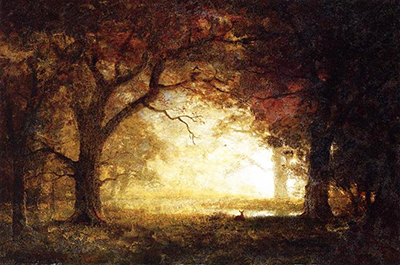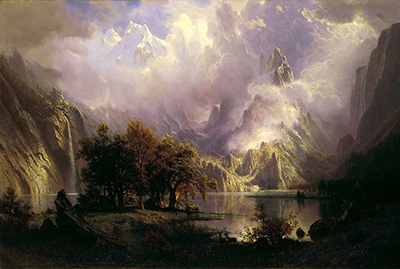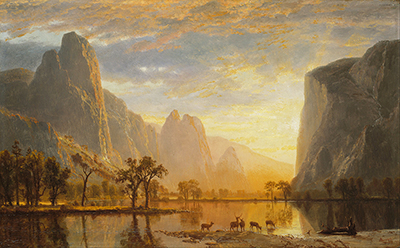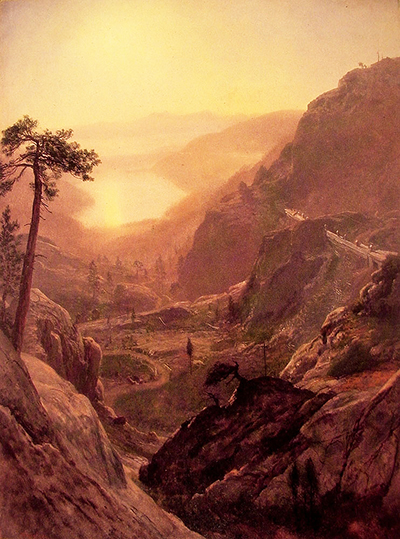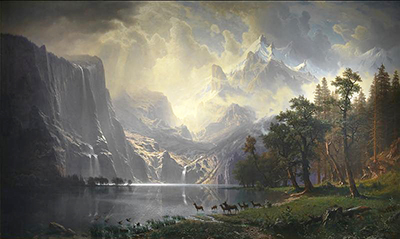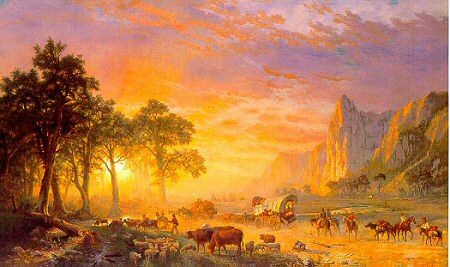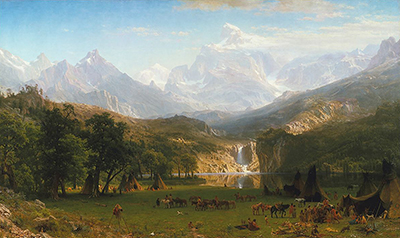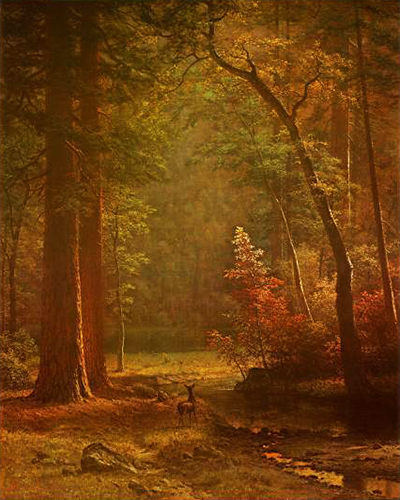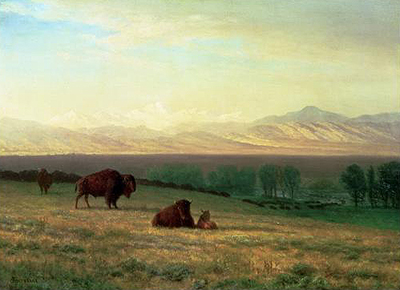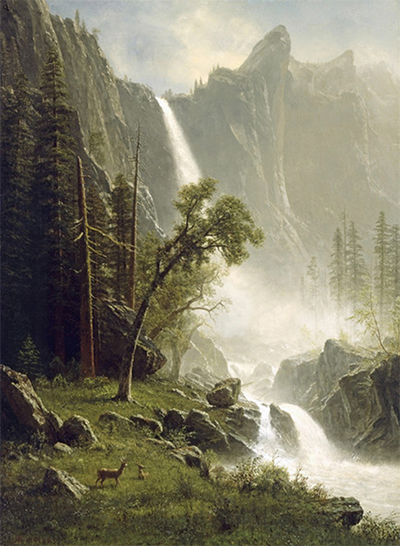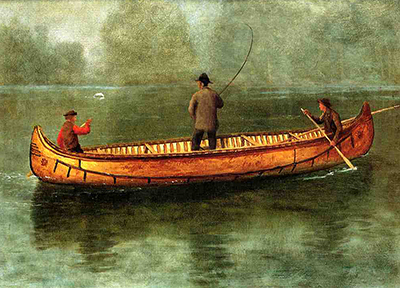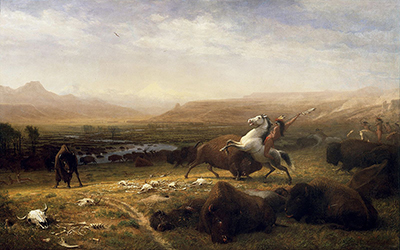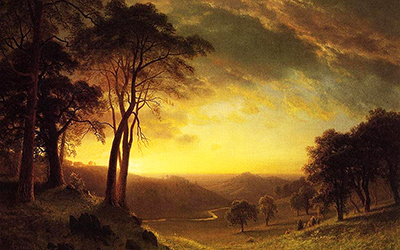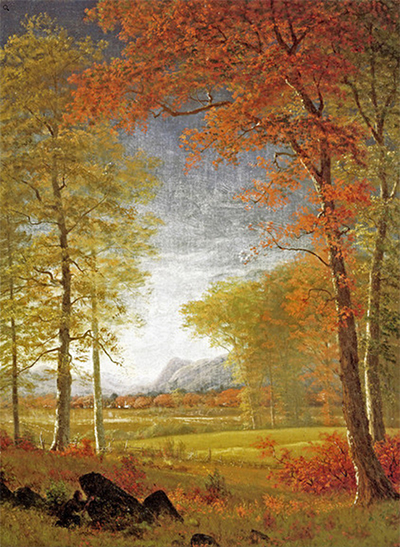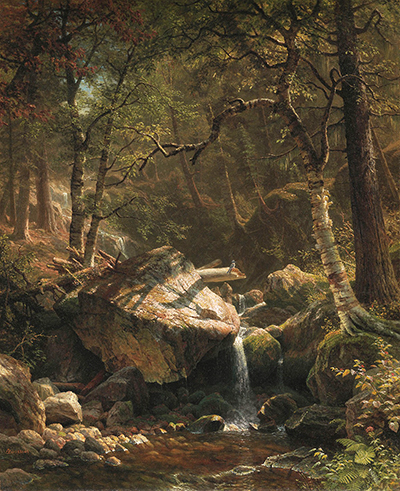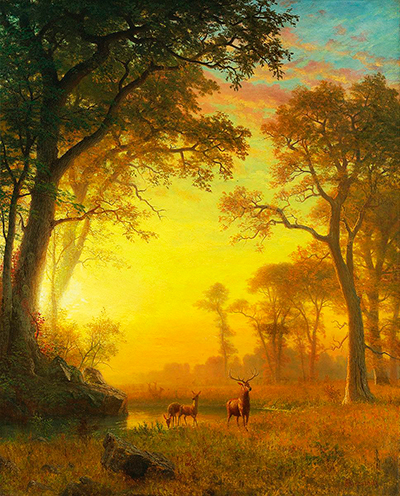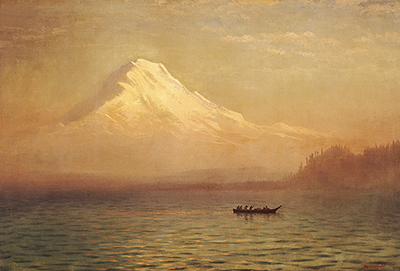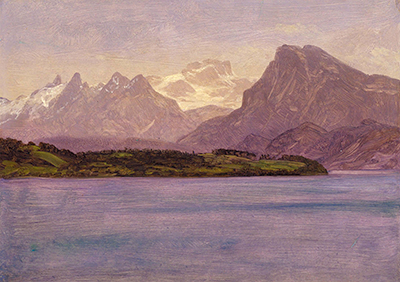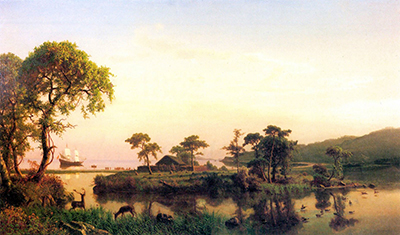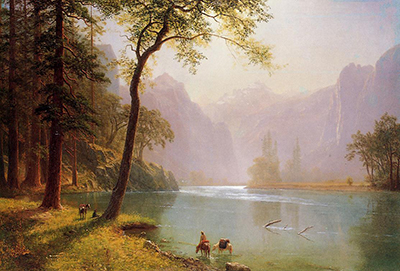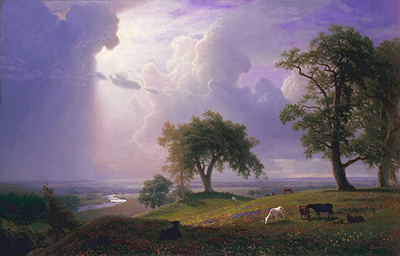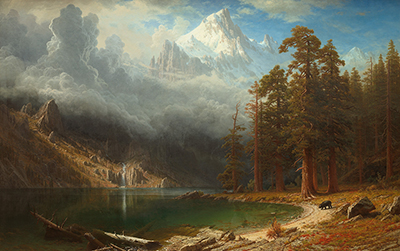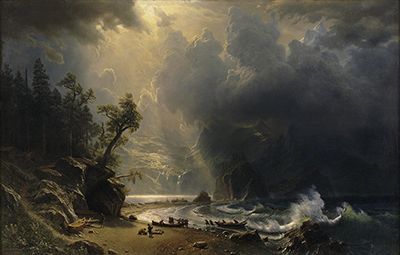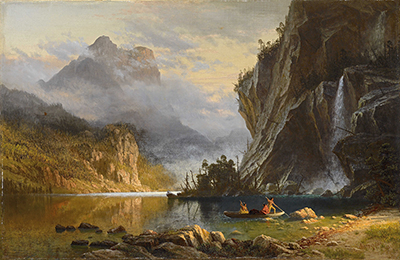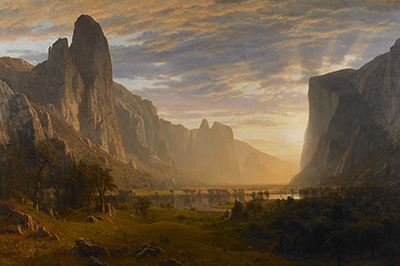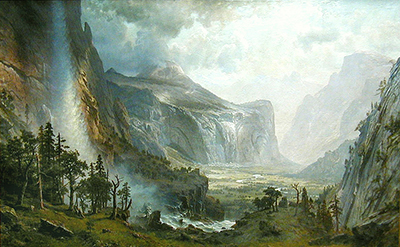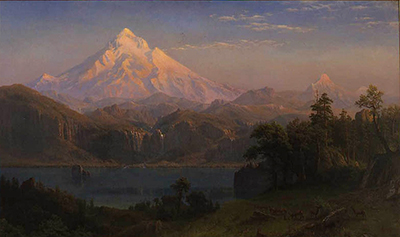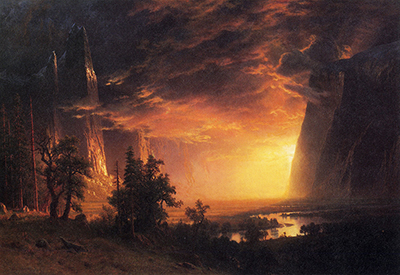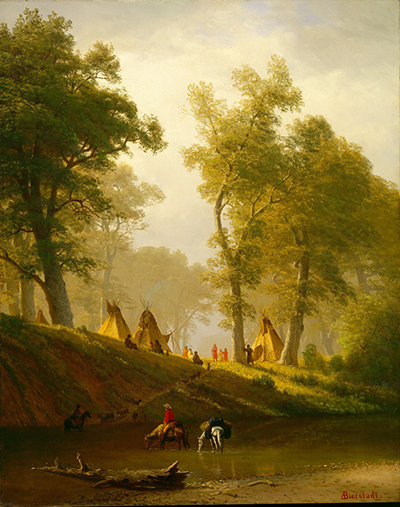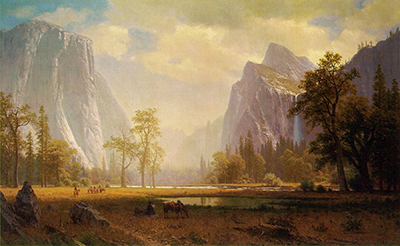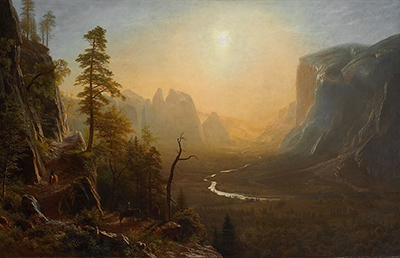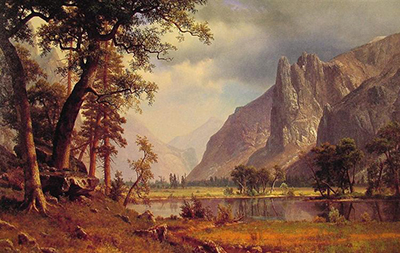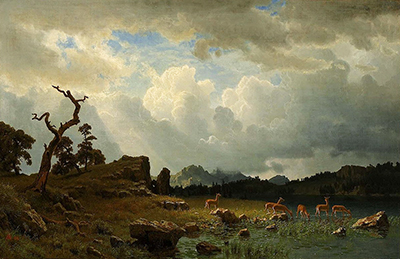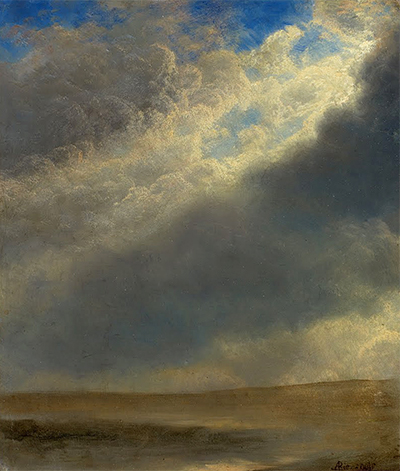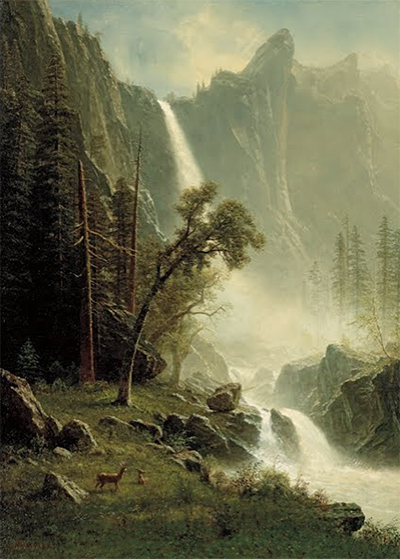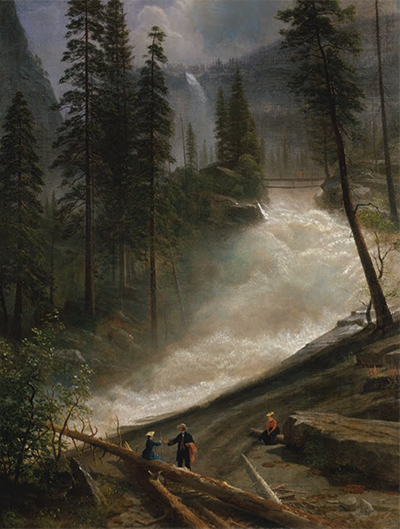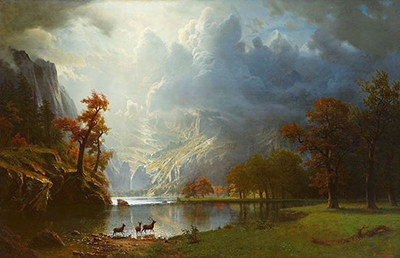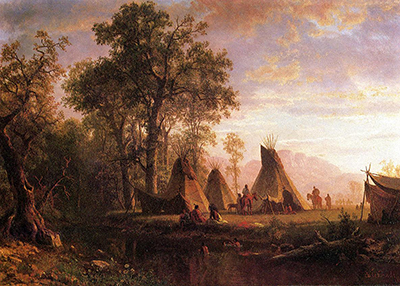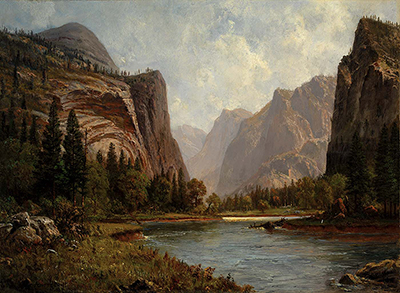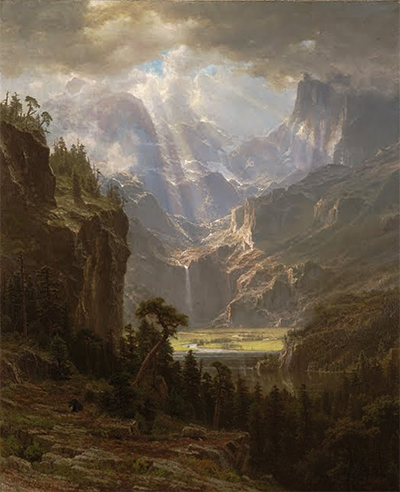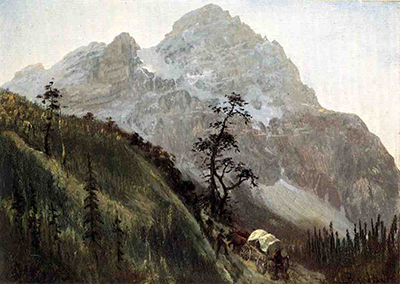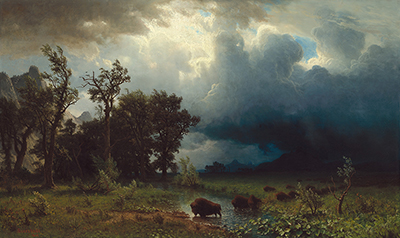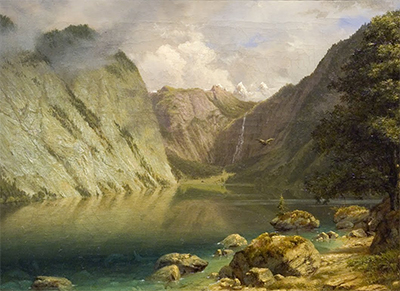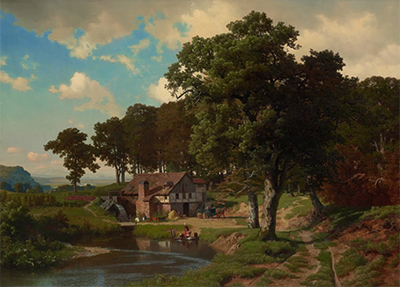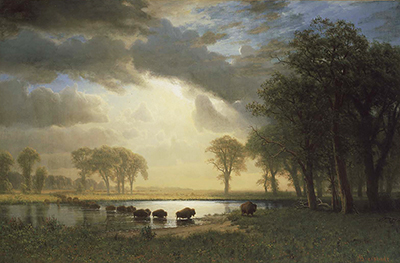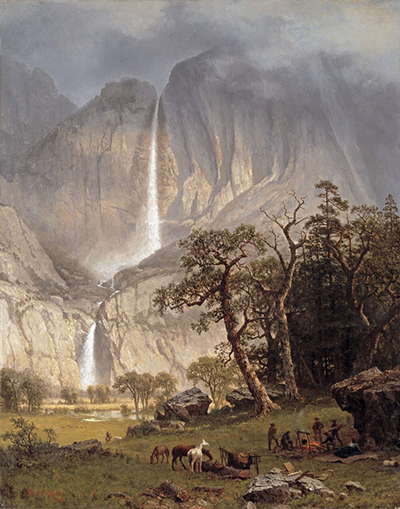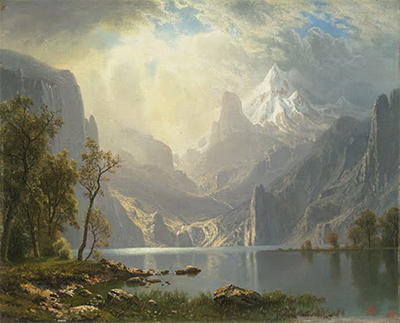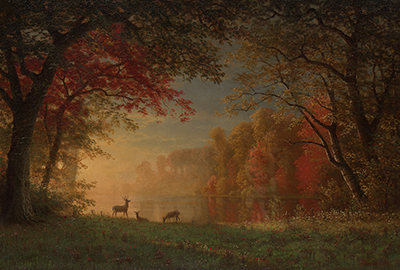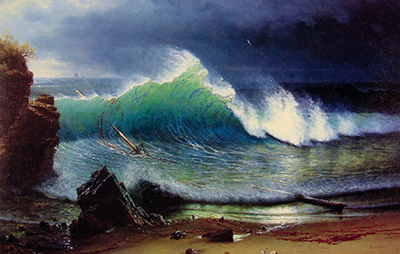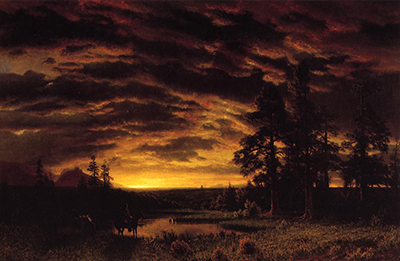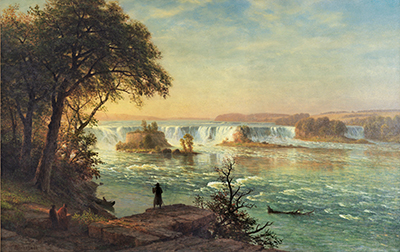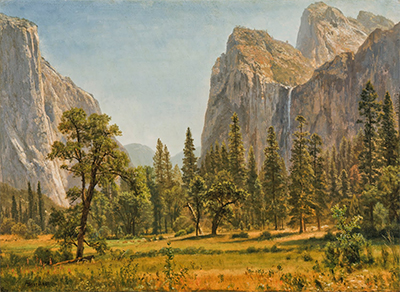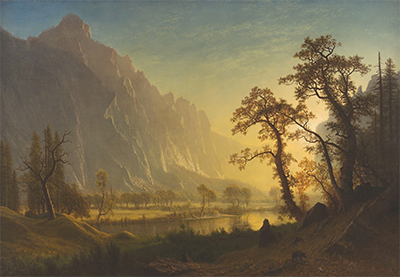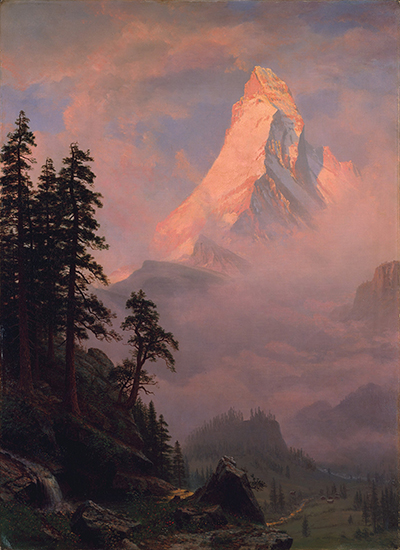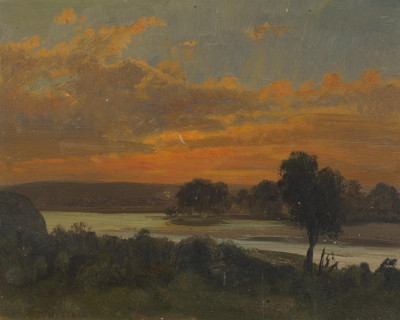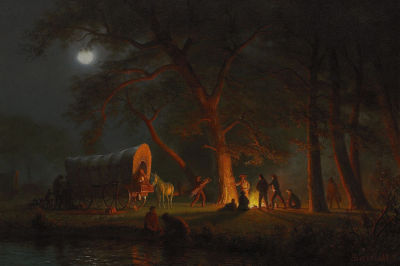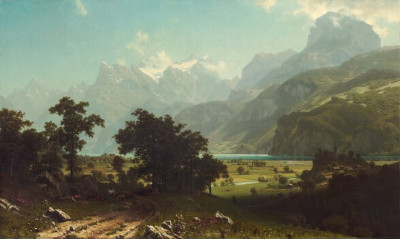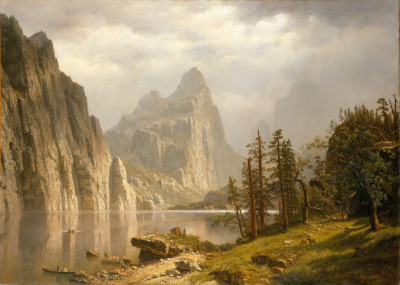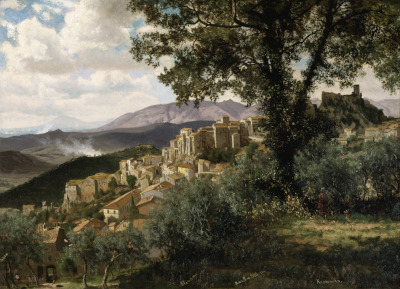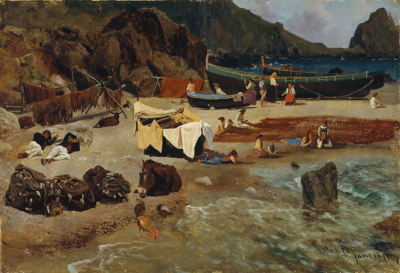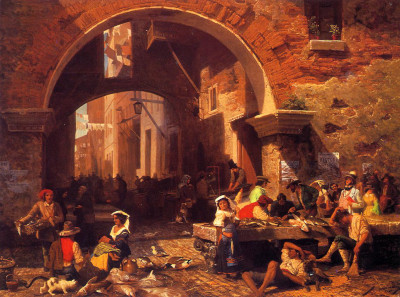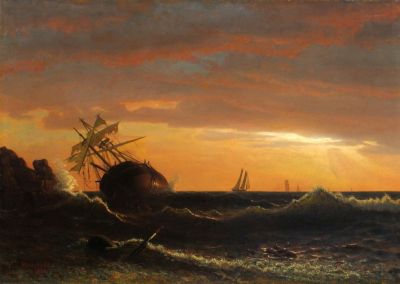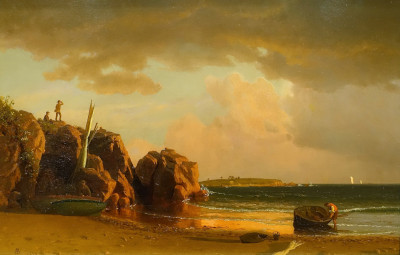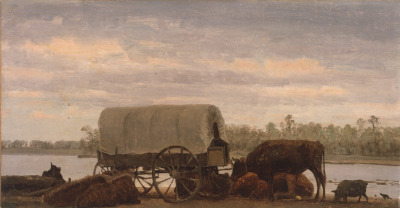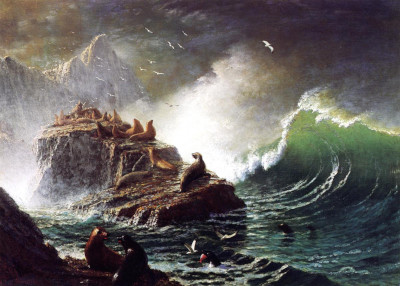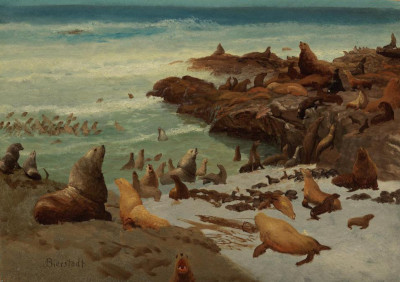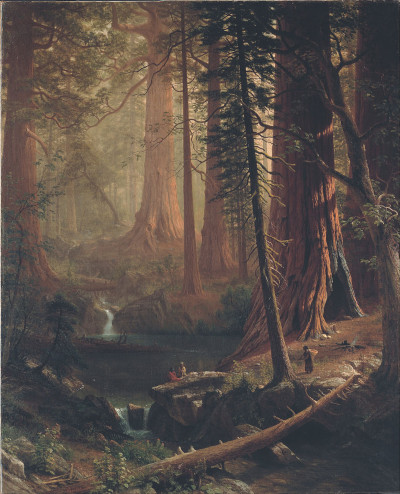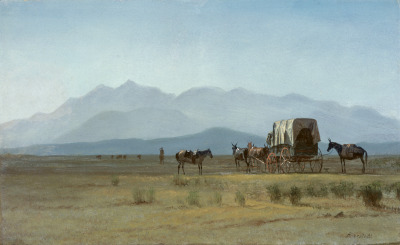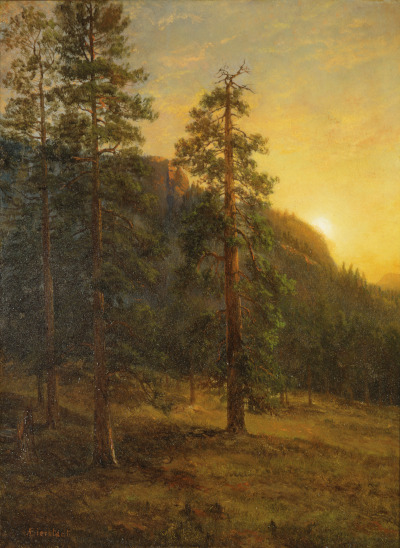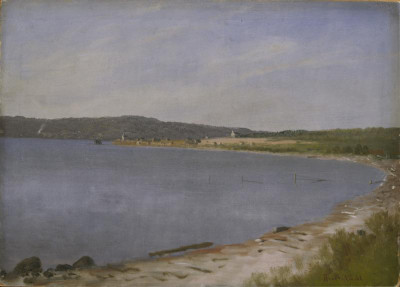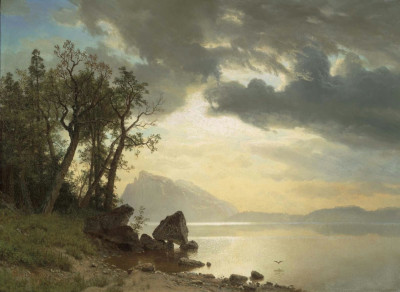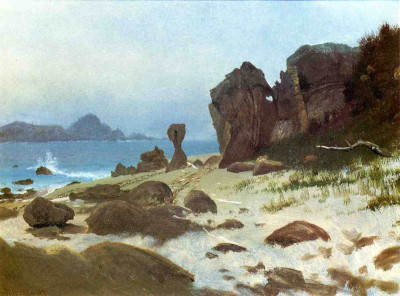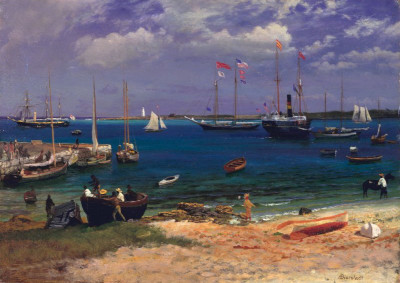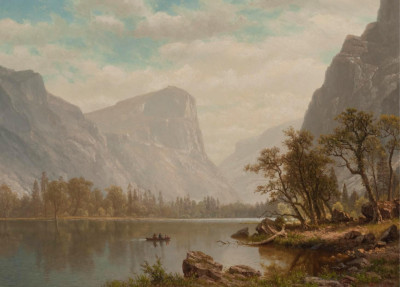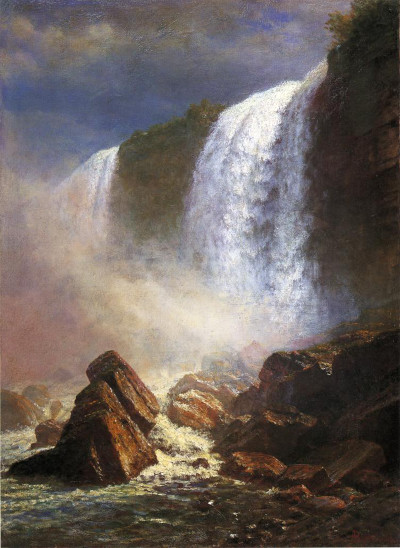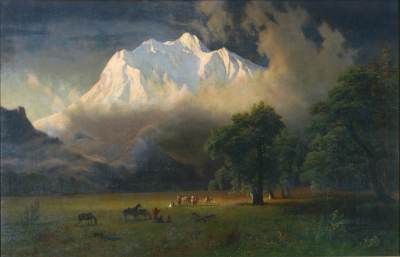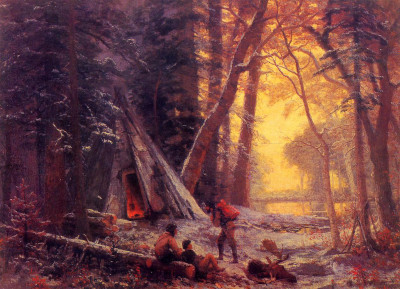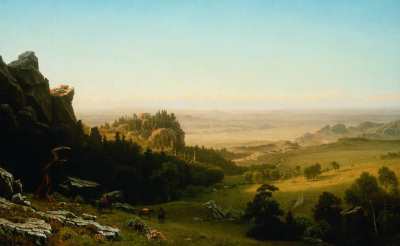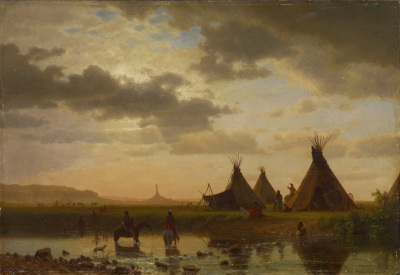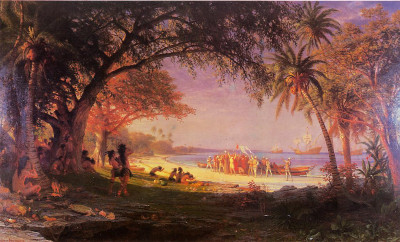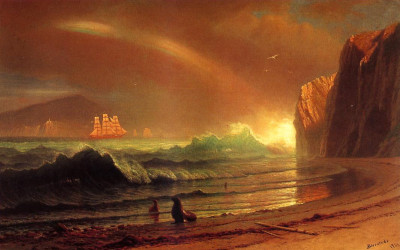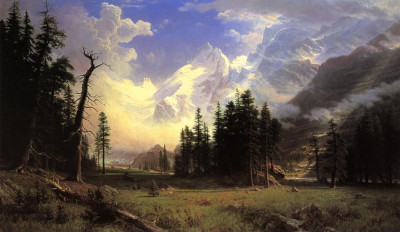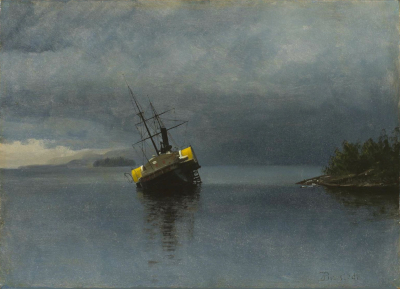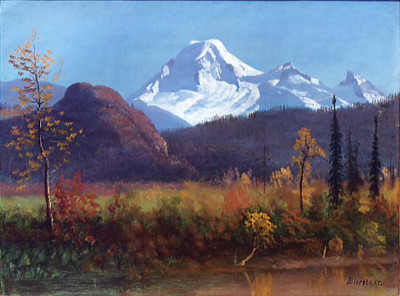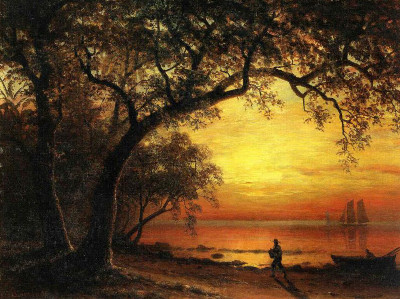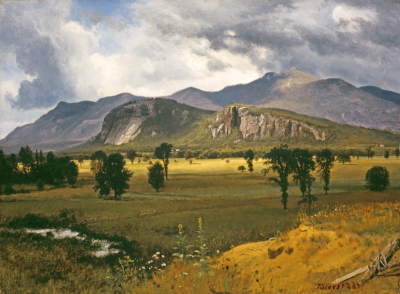 Albert Bierstadt was unusual in attracting attention and academic respect from Europe when American artists were yet to compare in great numbers to their European counterparts who brought the world movements such as French Impressionism and the Italian-led Renaissance. Bierstadt helped to reverse this trend and today there is clear acceptance of American artists, who have a particularly impressive record in terms of 20th century contemporary art. The images of Albert Bierstadt's landscape paintings in this website total around 30 and each one is accompanied by links from where you can buy your very own copy as a high quality handmade art prints, posters or stretched canvas from our recommended art retailer, Art.com.
We use them ourselves so are happy to recommend them. In most cases we find that framed giclee prints are the form best suited to reproductions of Bierstadt paintings as they accurately match the artist's original colours and also offer a professional finish which suits most homes. Rocky Mountains, Yosemite offered the great scenery found in most of Bierstadt's landscapes and the artist would consistently journey around these regions in order to find suitable places for his work. Bierstadt's life was closely intertwined with the environment and he perhaps one of the great qualities of his works was the passion that he managed to put into each of them.
Other artists new to the area, or without the same affection for it's scenery make have struggled to achieve the same results. Bierstadt was as prolific an artist as he was passionate and by the end of his career had amassed an incredible 4,000 full oil paintings, making the study of his full career quite a challenge. This website concentrates solely on the better known works to have come from the artist, but his quality was consistent and there are hundreds more paintings well worth checking out from his career for those who have the time to look further into his career.
For those looking to understand even more about Bierstadt and his vast portfolio, other great works worth checking out beyond just those included within this website include Yosemite Valley Yellowstone Park, Sacramento River Valley, California Coast, Nebraska Wasatch Mountains, Indians Fishing, Indian Encampment and Storm Among the Alps. Although not shown in the photographs here, Bierstadt did cover American Indians in several of his works and would always do so respectfully and with regard for their best interests. Sierra Nevada can be seen above in all it's glory and this natural wilderness offered Bierstadt all he needed for his paintings over a large period of his career.
There was an almost endless supply of suitable locations here that Bierstadt would carefully plan for each and every artistic creation which have now become so well respected right across America and into Europe. Bierstadt was one of several key international landscape artists who helped to bring this type of art into the mainstream.
List of Famous Albert Bierstadt Paintings
Albert Bierstadt had a long history in landscape painting and was a major star in the Hudson River School. See below for a list of his finest paintings.
Autumn in America
Buffalo Trail
California Landscape
Camp Independence Colorado
Coast of Emerald Lake
Dogwood
Early Lovers
Farallon Island
Forest Sunrise
Giant Trees
Half Dome Yosemite Valley
Harbour at Nassau
Landers Peak
Landscape Hill and Dale
Landscape Painting
Mexico Valley
Moonlit Shipwreck at Sea
Moose
Mount Corcoran
Mountains
Nevada Falls
Quiet Lake
Rocky Mountains
Sierra Nevada Lake in California
Storm in the Rocky Mountains
Thompson Cascade
Tropical Coast
Twilight
Yosemite Valley