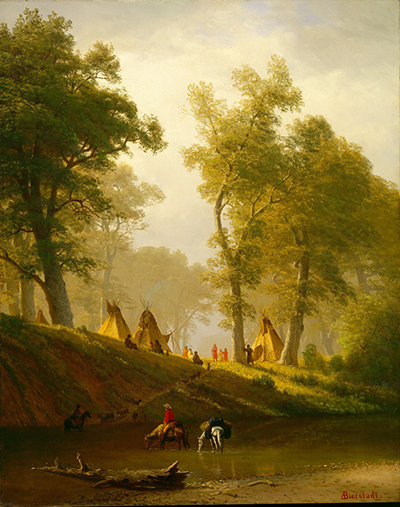 Buy Art Prints Now
from Amazon
* As an Amazon Associate, and partner with Google Adsense and Ezoic, I earn from qualifying purchases.
American landscape painter, Albert Bierstadt, was famous for depicting the American West in all its splendour. One piece that showcases the beauty of the region is The Wolf River, Kansas, which he painted in 1859. As with most of his landscape paintings, Bierstadt worked on this artwork after visiting different parts of the West.
Usually, Albert would sketch the scenery he liked most then use the sketches to paint. Before this particular painting, Bierstadt spent two weeks in Wolf River. Upon arrival, he wrote a letter expressing how in awe he was of the setting. This particular piece represents what the painter saw in Wolf River.
An Idyllic Setting
This Bierstadt painting features the Wolf River in northeastern Kansas, a tributary of the Missouri River. It flows eastwards into Doniphan County, past several communities. Over the years, several names have identified the waterway, including Petite Riviere de Cansez, Wolf Creek and Shun-ta-nesh-nanga. The 1859 piece shows a calm part of the river where two men on horsebacks are crossing. On the banks of the river is a small settlement of Native Americans. A few tents are scattered across the campsite, with large trees providing shade.
The trees cast shadows in the river bank and waters, while a part of the camp enjoys brilliant sunlight. Some dwellers seem to be working while others sit on the grass. The scene portrays the two travellers as traders going to do business with the tribe of indigenous people. However, like most of Bierstadt's works, The Wolf River, Kansas might not represent a real scene. The reason is that the painter had a knack for dramatising the settings in his landscapes.
Romanticising the American West
Although Bierstadt had hundreds of sketches of the places he visited, he liked adding various features for maximum effect. The artist uses his artwork to paint an exotic view of the American West. He displayed the grandeur of the regions to where he travelled. In this painting, he sets a relaxing tone through warm colours. The sky, even though only slightly visible above the trees, is clear. It contrasts nicely with the green of the tree leaves and the brown of the tents. The effect is a cosy, almost homely, ambience. Even the horses are not in a hurry to cross, as they appear to stop for a drink in the river.
At a time when the country was reeling from the effects of the Civil War, such settings inspired hope. The painting captures the radiance of undisturbed land. Crossing the River and Cho-Looke: The Yosemite Fall are similar works by the Hudson River School artist. The Detroit Institute of Arts purchased The Wolf River, Kansas in 1961, where it has been kept ever since.