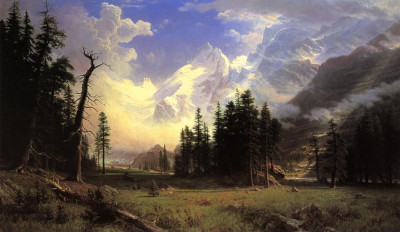 Buy Art Prints Now
from Amazon
* As an Amazon Associate, and partner with Google Adsense and Ezoic, I earn from qualifying purchases.
The Morteratsch Glacier Upper Engadine Valley Pontresina is entirely typical of artist Albert Bierstadt, with a bold combination of mountains and greenery in a romantic manner which drew him considerable support from the American public.
The contrast is abrupt, from foreground to background, with the latter being saturated in light. Nearest us we find rows of trees aside of a flat and fairly barren but green expanse of land. To the right are some steep hills with perhaps a walkway that has been worn away by human traffic. Clouds hang low, helping us to picture the height at which this location is to be found. Smaller mountains then lead up to thicker white cloud which then finishes with the dominant part of the overall scene, which is a white glacier in the far distance known as Morteratsch Glacier. Bierstadt informs us that we are in the Upper Engadine Valley Pontresina through the title of the painting, but he did have a habit of adding items from other regions in order to achieve just the look he wanted in each artwork.
Bierstadt was a part of the Hudson River School, a movement which bore similarities to the Romanticists. They would seek to produce the most stunning impressions possible and were happy to move away from reality in order to achieve this. Some critics rejected this approach, suggesting it was dishonest but the public seemed to appreciate the aesthetics and care little about the accuracy of particular depictions. One of the key members of the Romanticist movement was John Constable, a British landscape painter who gave us the likes of The Cornfield, The Lock and Stratford Mill.
This painting is around one and a half metres in width and can now be found within the collection of the The Brooklyn Museum, USA. Visitors to this venue will find many more examples of American art to interest them. Bierstadt himself is now regarded as one of the most significant painters from this nation, going back all the way to its inception many centuries ago. He is joined by other members of the Hudson River School, and they laid the foundations of American landscape art for others to follow in the decades that came later. Younger generations continue to appreciate their achievements today, and their work is dispersed in private and public collections all across the country.