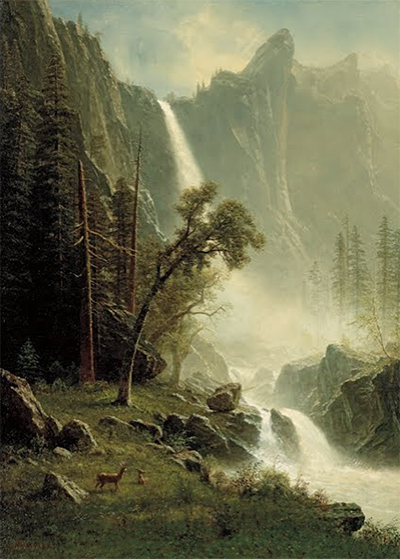 Buy Art Prints Now
from Amazon
* As an Amazon Associate, and partner with Google Adsense and Ezoic, I earn from qualifying purchases.
Painted between 1871 and 1873, Bridalveil Falls, Yosemite is one of the numerous oil on canvas landscape paintings by Albert Bierstadt. The striking landscape depicts a clearing in California's Yosemite National Park, specifically the location known as Bridalveil Falls.
With its primary source being Lake Ostrander and a drop of 617 feet (188 metres), it is one of the most prominent waterfalls in the park. Though Bierstadt produced works inspired by other areas of natural beauty in the United States including the Rocky and Sierra Nevada Mountains, it was in Yosemite that the artist found his greatest and most iconic scenic subjects. This particular secluded valley was referred to by the artist as the 'Garden of Eden', and this serene beauty can be seen and felt on the canvas to full effect.
The depth of field is most striking, with Bierstadt excelling in being able to emphasise grand size and space with his finer details. The intricate and lively pair of deer at the bottom of the scene have the simple yet striking effect of widening the scope of the landscape, with the animals paling in comparison to the height of the trees and the visceral power of the waterfall that travels through the canvas from top to bottom. The scale of the painting truly reflects the awe that Bierstadt clearly had for the natural surroundings.
The colour palette of the painting evokes a very distinct sense of early morning, with warm hues and golden tones that give the viewer an immediate idea of sunrise in the wild. The delicate haze that emanates from the water produces a majestic calm that permeates through the landscape, giving the scene an almost mystical quality that brings the artist's 'Garden of Eden' comments into clearer perspective. The lush greens of the grounds and trees blend perfect with the warmer sunshine tones to create a sense of completely undisturbed natural beauty.
Such was the power and impact of Bierstadt's Yosemite paintings that they have actually been credited with helping to awaken the American people to the need to preserve the sensational natural landscapes that the country is blessed with. Bierstadt's romanticised, almost Biblical vision of the American West can be recalled in a number of later works, most notably in the photographs of Ansel Adams. The current home of Bierstadt's Bridaveil Falls, Yosemite is the North Carolina Museum of Art in the United States. The painting was purchased for the museum using funds from the North Carolina State Art Society and contributions from various philanthropic donors. You may also like other work from his career including Lander's Peak and Half Dome Yosemite Valley.