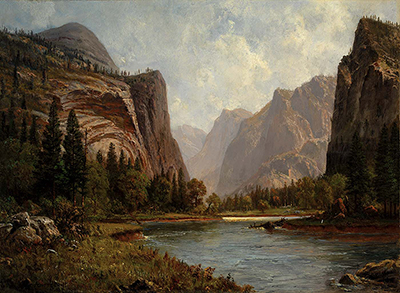 Buy Art Prints Now
from Amazon
* As an Amazon Associate, and partner with Google Adsense and Ezoic, I earn from qualifying purchases.
Bierstadt was known for painting scenes of nature, specifically scenes using natural light. He typically painted with an emphasis on the beauty and grand power of the American wilds.
Gates of the Yosemite is no exception to this pattern; it depicts the scenery of the Yosemite Valley in winter. The painting covers about thirty square miles and shows El Capitan on the left with Bridalveil Fall, the Merced River, and Yosemite Falls. The sky is filled with low clouds. The painting captures a moment of pause, where you can sense the grandeur and majesty of nature.
Bierstadt visited Yosemite in 1865 and 1872. The first trip inspired his painting, "Yosemite Valley from Inspiration Point". He later returned to the area with a commission from George W. Vanderbilt, one of many such commissions Bierstadt would receive over his career, which allowed him to paint such iconic western scenes as this one. Vanderbilt would later go on to build Biltmore Estate in Asheville, North Carolina.
Gates of the Yosemite is set in California's Yosemite Valley; it captures a specific moment in time around the area. The valley was discovered by non-indigenous people in 1851 when a group led by Joseph Chiles stumbled upon it while looking for a passage between two local mountain ranges. The next few years brought many visitors to the region, but these early visitors were not interested in preserving its natural beauty; they instead saw the land as a great natural resource that could provide them with lumber and fertile soil. A few members of Congress even gave speeches on the floor regarding the valley's potential for providing food, water, and mineral resources.
Albert stands out among the Hudson River School artists for his love of pristine nature and dramatic lighting; he believed that nature was a "temple filled with divine light". Much of his work features low clouds that bring the viewer into the scene, dwarfed by nature. Bierstadt was heavily influenced by his friend Albert Smith, who suggested he travel west searching for new material to paint. A couple of years later, Albert also influenced other painters and artists who loved romanticised artwork.
This painting is considered one of Albert's themes, which he uses to portray different natural wonders around North America. His work was so appreciated by audiences that many people would visit these places after seeing his paintings. They would experience the same feelings he had as he painted the artwork. Today, the painting sits at the Smithsonian American Art Museum and attracts thousands of visitors every year.