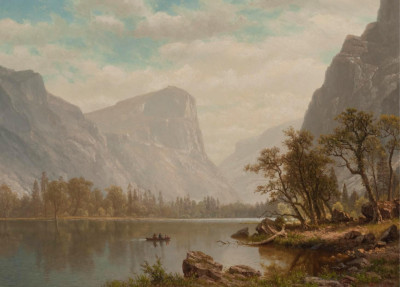 Buy Art Prints Now
from Amazon
* As an Amazon Associate, and partner with Google Adsense and Ezoic, I earn from qualifying purchases.
Mirror Lake, Yosemite Valley is entirely typical of Albert Bierstadt, an artist who captured the wild landscapes of the USA like no-one else. He became an integral member of the Hudson River School, where he was joined by the likes of Cole, Moran and Church.
Here within Mirror Lake, Yosemite Valley, we find the bank on which we stand sweeping across to the right, with tall trees lining that side. Close by, a small boat sneaks past, which perhaps is native Indians within a canoe, which were a people that constantly interested this artist. The lake then leads into the background elements, with a row of trees in the far distance which line the opposing bank. There are then several imposing mountains beyond that, painted in light tones which helps to deliver the sense of perspective and distance. A further rockface comes in from the right to essentially frame the composition, in a manner that had been used by artists for many centuries in outdoor settings. In the sky we find relatively bright tones, and a fairly calm outlook which avoids distracting us too much. This overall composition is entirely typical of the artist and can be seen again many times, both in Yosemite as well as in other regions that Bierstadt would travel to in different points in his lifetime.
The painting is under a metre in width and height, meaning it was not one of the artist's huge canvases, but big enough to be enjoyed. Bierstadt would work smaller pieces such as this from his studio and then sometimes turn them into larger pieces when he was particularly enthused by them. The artwork was gifted by Mrs. Sterling Morton for the Preston Morton Collection and the painting has since been given a date of 1864. It can now be found in the Santa Barbara Museum of Art in California, a state in which many of the artist's original works still reside. Some of these have been purchased privately over the years, but most have been bequethed by passionate collectors who wanted the public to get the opportunity to see them too and so generously passed them on.
The artist would feature Yosemite Valley many times within his career, and this stunning region produced much of his best work. Other examples include the likes of Cho-looke, the Yosemite Fall, Half Dome Yosemite Valley and Looking Down Yosemite Valley, California. He found certain combinations of content that suited his artistic style and would regularly travel by river, looking for where mountainous regions would run alongside natural water. With rows of trees along banks, he would then have yet another potential spot to work, and he regularly drew maps in his sketchbooks to help plan his travels. As he became more knowledgeable about the terrain of each region, so he found it easier to discover new locations and over time others would ask to travel alongside him. Of course, he travelled to many other parts of the country, as well as Canada and Europe as well, but Yosemite will always hold a particular importance to his oeuvre.