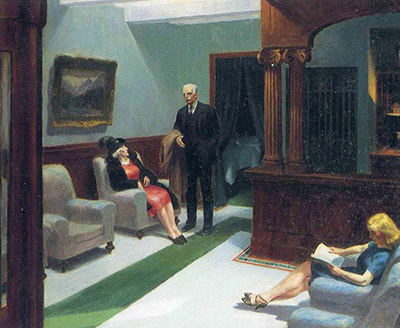 Buy Art Prints Now
from Amazon
* As an Amazon Associate, and partner with Google Adsense and Ezoic, I earn from qualifying purchases.
Hopper was 61 years old when he painted Hotel Lobby as an oil on canvas in 1943. He made ten preparatory sketches for this image which are now part of a collection at the Whitney Museum of American Art.
These ten sketches show how Hopper studied his scenes and experimented with the placing of characters and props to created such intriguing statements about American life.
Hotel Lobby reveals some of the recurring themes within Hopper's works. His characters are waiting, "in transit", they do not interact with each other but are forced to remain in the same area together.
Age and the passing of time is another theme that appears to be depicted within this painting. Hopper's wife, Jo, provided the model for both the old and young woman in the scene.
It is thought that Hopper based the older gentleman, carrying the overcoat, on himself. Incidentally, the fur coat that the older, matronly woman is wearing belonged to Hopper's wife Jo. Although it was often used as a prop, Jo wore this coat to attend gallery openings.
The Hotel Lobby scene has an claustrophobic, uncomfortable atmosphere. There are no windows unlike many of Hopper's other paintings. The desk clerk is barely visible in the shadows.
Hopper deliberately uses odd angles and rigid lines to emphasize this feeling. The young girl reads her book, like so many people do to avoid interaction in a public space.
The Hoppers spent a lot of time in motels and hotels. This one is upmarket, possibly like the hotels they would have stayed in when funded by a gallery or museum.
The painting on the wall above the older woman's head is an interesting touch. It is a landscape in a heavy gold frame, in style that Hopper would never have created.
Hotel lobby is a fascinating glimpse of a waiting room, of human life in transit and another of Hopper's masterpieces.