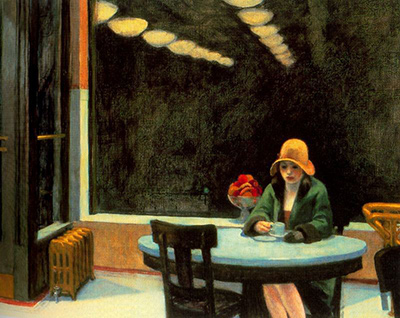 Buy Art Prints Now
from Amazon
* As an Amazon Associate, and partner with Google Adsense and Ezoic, I earn from qualifying purchases.
Painted in 1927 as an oil on canvas, Automat is a haunting depiction of what art critics call "urban alienation". Here, Hopper's anonymous woman sits in isolation.
Despite being in an all-hours Automat designed for the automatic delivery of drinks and snacks, deemed the modern and "proper" place for ladies to dine, she sits alone and appears lost in thought. Hopper's wife, Jo, modelled for this painting, although Hopper altered her physical features and made her slightly younger for this scene. She is dressed in the twenties style cloche hat which doesn't quite match the green fur-trimmed coat, suggesting it is cold outside. Just one glove is removed. Hopper uses a variety of techniques to emphasize both her vulnerability and loneliness. The viewer sees nothing of the outside world, just the reflection of the Automat's lights in the dark window.
The Automat is spacious, both these things focus the viewer's attention on the woman. The back of the chair invites the viewer nearer, yet the visibility of the woman's legs, which Hopper seems to have deliberately highlighted, would have made the viewer feel slightly voyeuristic in 1927. The woman's eyes are downcast, staring into the cup and an empty plate suggests she has been there some time. There is a dramatic tension overall and while the woman may look sad, the painting encourages to viewer to consider her story and empathize with her situation. This picture was first displayed on Valentine's Day 1927 in Rehn Galleries New York and was sold by April. Hopper's incredible skill at capturing a scene and allowing the viewer to ponder the story is phenomenal. His images are strikingly beautiful, and thoroughly absorbing. Automat is no exception.
Human figures would often be depicted by Edward Hopper in different types of negative mood. There is an atmosphere of melancholy within Automat, where as in other examples from his career you might find loneliness or even disconnect between individuals. He might separate people visually to create this, as well as making use of negative body language or even angling people away from each other. This brought interesting elements into his work and left behind messages on society as a whole in some cases. In some cases Hopper would discuss the way in which humanity and nature have moved away from each other in recent generations as well as how modern day life has lost many qualities of friendship and happiness, being replaced with ambition and loneliness. Most initially view his paintings as charming depictions of American life from past generations, but there was actually much more to be seen in the subtle constructions of each of these artworks.
The artist would also make subtle amendments from reality than those new to his work might misunderstand as technical errors. For example, in the case of Automat, the female's legs are particularly bright, even though the angle of the sun should have put a shadow over them, because of the table's angle. Hopper would have been well aware of this but he brightened her legs as a means to underlining her sexuality and alluring nature. He would do the same again in a number of other paintings and consistently avoided a direct production of reality in order to leave subtle messages such as this. That is perhaps why he also changed her figure away from his wife's more fuller frame in order to produce just the right message that he was after, also making her look somewhat younger as well. One hopes that Jo Hopper was not too offended by these alterations, and perhaps her husband explained his reasons for doing so at the time. One must also place these choices into context for the time, within a far more conservative society where the display of legs like this would have been seen in a very different way to how it would be today.
Edward Hopper also darkens the glass window behind the model, when typically we would have been able to view many figures inside the building. He wanted to avoid distracting us from the main figure and continued this approach throughout his career. In order to avoid a huge slab of black paint dominating much of the canvas he appends the bright lights above her head which tells the viewer of the layout inside the room and also delivers some idea of perspective through the angle in which they are lined up. Perhaps we can even make out a line of tables filled with excitable customers, but it is done in a tone very close to the main tone of black, and so left as more of a suggestions that drifts away as you peruse the rest of the painting. In terms of palette elsewhere, a yellow-brown tone covers several features outdooors, and then there are additional touches of blue, red and green. The empty black chair in front of us perhaps plays on the feeling of loneliness too.
Automats were a particular style of restaurant found within New York in the first part of the 20th century. Many of the details found within this painting would have allowed locals to immediately spot the venue as being from this particular type. The artist would have chosen these types of eateries because of their anonymous nature, where thousands of people would eat together across the city, and very few would socialise with anyone that they were not already familiar. It played into the artist's discussions around the lack of human connectivity within urban life, as he saw it.
"...They were clean, efficient, well-lit and—typically furnished with round Carrera marble tables and solid oak chairs like those shown here—genteel. By the time Hopper painted his picture, automats had begun to be promoted as safe and proper places for the working woman to dine alone."
Whilst Automat can be considered as one of the artist's most famous paintings, there are plenty of other great works to also mention within that same conversation. For example, the likes of Nighthawks, Gas, Chop Suey and House by the Railroad are also all highly regarded pieces which would fetch huge valuations were they ever to come up for sale. They each hold qualities of American life within them, which was a major part of Edward Hopper's success. Lighting would be a key part of each one but within Automat the shadows are more subtle, with most of the scene taking place outdoors, with the palette bright and saturated in bright sunshine, hence the hat worn by the young woman in the centre of the composition.
This painting can now be found within the collectio of the Des Moines Art Center, Iowa, USA. Their collection focuses most on American and European artists, and was initially set up in the 1940s. Some of the other notable names to find within their display include the likes of Georgia O'Keeffe, Mark Rothko, John Singer Sargent and Paul Gauguin. The building itself in which the art is kept also has important architectural qualities, making it a fitting venue in which to appreciate some of the finest art from the 19th and 20th century. One of the most recent artworks, as well as being particularly high profile would have to be Jean-Michel Basquiat's Untitled, 1984 which helps to keep this institution up to date as much as possible with the new movements of recent generations.