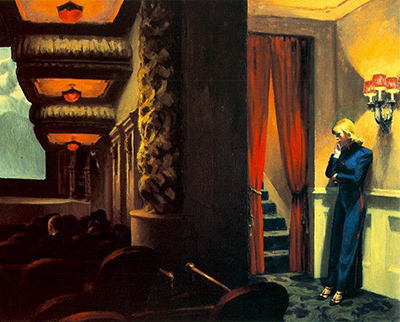 Buy Art Prints Now
from Amazon
* As an Amazon Associate, and partner with Google Adsense and Ezoic, I earn from qualifying purchases.
Many critics argue that Hopper's New York Movie Painting visually examines the social, economic and political landscape of the United States during the 1930s and the period of the American Great Depression.
Hopper's New York Movie painting marked the end of a period of artistic block and a long period of inactivity as an artist. Started in December 1938, Hopper researched and sketched ideas from real-life visits and observations.
He visited numerous movie theatres (including the Republican, Globe and Strand), sketching the picturesque interiors and fascinating characters.
This surge in artistic creativity resulted in Hopper sketching at the Palace Theatre on West Forty-Sixth Street (now the Lunt-Fontanne Theatre).
The painting inspired American Poet Joseph Stanton to write a poetic ode to the painting entitled "Edward Hopper's New York Movie".
Like many of Hopper's paintings, Hopper's wife (and fellow artist Jo Hopper) was the model for the woman on the right of the painting – Jo had previously modelled in Hopper's Nighthawks painting.
In New York Movie Painting, the woman's clothing (wide-legged jumpsuits) bears a close resemblance to the uniform worn by the Palace Theatre's female staff during this period. When you observe the painting, it communicates a deep sense of melancholy experienced by people. This gives it sense of isolation (and the irony of feeling alone, whilst surrounded by thousands of other people living in the same urban area).
If theatre and show business is concerned with creating imaginary and artificial worlds, full of larger than life stories and characters, then this painting embraces this illusion. Setting the painting in a theatre, where people go to escape their real-world life, is a clever illusion in itself, for the painting draws you into this imaginary world, and highlights the isolation and melancholy within.
Taking the usherette as an example, she is absorbed in her daydreams, whilst the customers are spectators in the action-filled world of the film. It is this contrast between the glamorous world of the theatre and the mundane loneliness of the world outside, that showcases Hopper's skill as an artist.