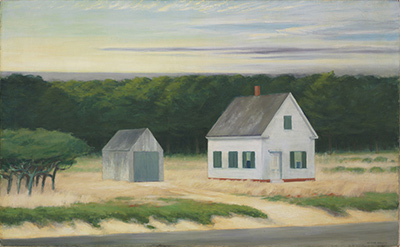 Buy Art Prints Now
from Amazon
* As an Amazon Associate, and partner with Google Adsense and Ezoic, I earn from qualifying purchases.
Edward Hopper is universally known as one of the most valuable realist painters of the twentieth-century in America. His views of reality were a distinct one, reflecting his own intellect in deserted landscapes, cityscapes, and detached figures that he chose to paint.
Edward Hopper was born in New York in 1882. He studied at the school of Art between 1900-1906. This is when he turned from illustrations to works of fine art.
Hopper travelled to Europe to study. This is where his artistic development changed. He was influenced from the works of Edgar Degas and French masters Edouard Manet.
He began developing his own style of painting. Hopper painted rural and urban scenes and used windows as a symbolic eye.
Extensive paintings such as October on Cape Cod were a difficult creative process, where every descriptive aspect was well thought before Hopper painted.
The painting is an abandoned roadside view, as observed from a passing car. There is a white house with green shutters, a confined Cape Cod style situated sideways on the property with a door in the front.
There is a small barn nearby with a green door, following an abundant cluster of trees that extends across the canvas. The painting has a grey color, autumn light and portrays deep silence and tranquility.
October on Cape Cod is one of the last of Hoppers paintings from 1946 that remains privately owned. As his health gradually failed, Hopper's productivity slowed down.
One of Edward Hopper's best works is Nighthawks. This painting specifically captures his skills at their best.
Another impressive painting from his career is the "October on Cape Cod". The famous artist visited Cape Cod with his wife in 1930, where he rented a house in South Truro for three years.
In 1934 the couple decided to built a studio and home where they began to stay there six months out of the year.
Hopper found a great amount of subject matters in different homes and buildings that populated peninsula. He drove around, searching for the right subject frequently drawing and painting from his car.
This gave his paintings a sense of distance, making the observer feel like a voyeur instead of a member in the scene.