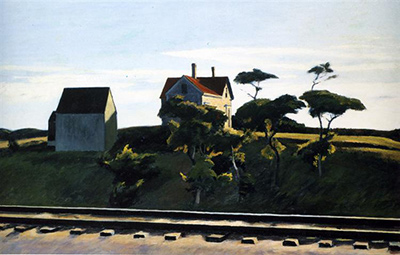 Buy Art Prints Now
from Amazon
* As an Amazon Associate, and partner with Google Adsense and Ezoic, I earn from qualifying purchases.
This incredible painting by Edward Hopper was created during the Great Depression and depicts an insulated landscape in the town of New England.
The image is named after the East Coast railroad line and depicts an isolated house situated within its local environment.
Hopper has used a combination of clean lines and angular shapes within the architectural structures and blended them with the subtlety of much more fluid outlines in the natural environment.
This provides a truly harmonious effect within the overall illustration, a wonderful image to own.
Similarly, delicately shaded hues of brown and green depict the rolling banks of the hill side, which provide a stark contrast to eye piercing brightness of the sky above.
This image is then punctuated by the striking amber notes in the clapboard sidings which offer the overall feeling of transience across the display.
Edward Hopper was originally a successful illustrator and commercial artist, before his true skills as a realist painter were recognised. But it wasn't long before viewers became aware that his obsession with the transience and loneliness within modern life created almost haunting and compelling scene within all of his most popular works.
In the New York New Haven and Hartford the prominence of the railway tracks is a perfect example of the solitude we all now face, offering a clearly defined warning to anyone that wants to travel to far into the avant-garde.
With other works in his collection focussing on coastal views and scenes of the city, Hopper's use of light provides a striking element to his artistry. However it is the vacant looks of many of his characters and the isolation represented in his images that makes New York New Haven and Hartford a truly desirable piece.