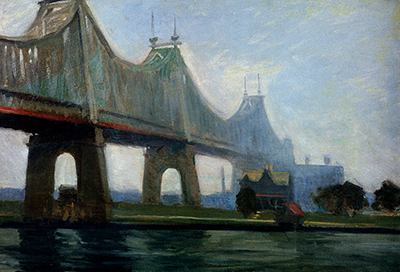 Buy Art Prints Now
from Amazon
* As an Amazon Associate, and partner with Google Adsense and Ezoic, I earn from qualifying purchases.
Edward Hopper was born in New York in 1882. He studied illustration and fine art in the New York School of Art from 1900 until 1906. After graduation, he traveled to Paris, France, on three occasions between 1906 and 1910.
Painted in 1913, the scene for 'Queensborough Bridge' was set in spring or summer, as the grass is green and the trees are in full foliage. The time of day is hard to tell. It could be dusk, dawn or merely an overcast day. The scene definitely carries a mystical and mysterious aura.
While the bridge itself is painted in rough brush strokes, Edward Hopper paid much attention to the crowns of the bridge, which shows in surprising detail. On the other side of the dark murky water, a small red-roofed boathouse can be seen, along with a stately, column supported residence, with behind it a much larger building.
This could be a factory as Hopper also detailed a tall chimney on the left-hand side of the building. The boathouse, residence and factory range from small to large and emphasize the gigantic dimensions of the Queensborough Bridge.
'Queensborough Bridge' is an oil on canvas, measuring 25 7/8 x 38 1/8 inches.
Similar paintings by Edward Hopper include 'Macomb's Dam Bridge' and various views of the Manhattan Bridge. Other painters such as Paul Cezanne and Claude Monet were equally fascinated with bridges. Monet especially with his 'Water Lilies and Japanese Bridge'. The most noticeable difference between the bridge paintings of Edward Hopper, Cezanne and Monet is the atmosphere of the scenes. While Hopper's painting is rather dark and gloomy, the works of Cezanne and Monet are bursting with color and light.
While 'Queensborough Bridge' and 'Water Lilies and Japanese Bridge' are both painted in late spring or summer, Monet's paintings are fresh and cheerful while Hopper's work is dark and depressing. Not only 'Queensborough Bridge' but 'Macomb's Dam Bridge', painted in 1935 as well. While Hopper used more color in 'Macomb's Dam Bridge' showing green grassy fields, the apartment buildings in the background, presumably part of the New York Bronx and the bridge itself, devoid of life, are somewhat demoralizing with their eerie stillness.
It's unclear whether both dark paintings were reflections of Hopper's state of mind or just his preference of color.