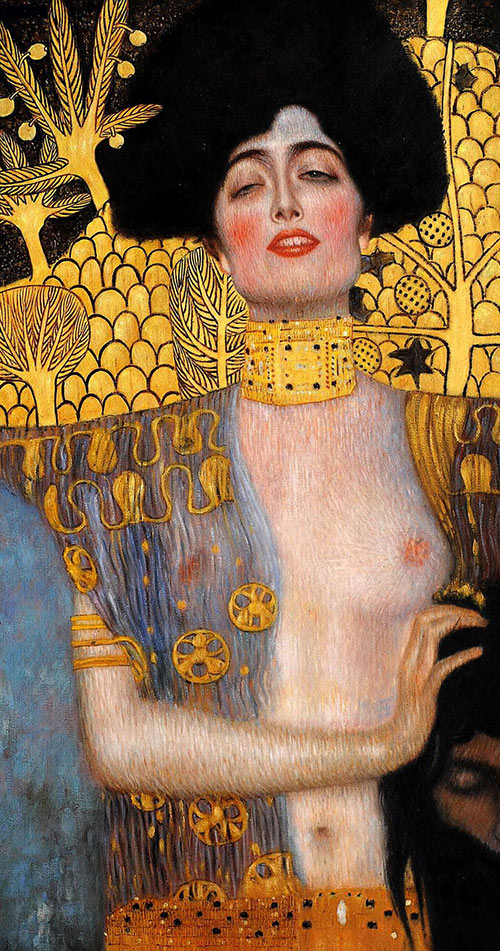 Buy Art Prints Now
from Amazon
* As an Amazon Associate, and partner with Google Adsense and Ezoic, I earn from qualifying purchases.
Gustav Klimt depicts the classic showcase of Judith, a biblical heroine who had seduced and decapitated General Holofernes.
The painting was showcased in 1901, and met with an array of tension, as viewers believe that the woman was the biblical reference to Salome.
The artist had to use an impressionist technique to paint the art, incorporating metallic, and textures throughout his work. The painting has a minor undertone of a realist style, alongside different elements of art nouveau. The strong colours, and more importantly significant symbolism throughout the work was felt with an array of criticism from viewers during the showcase of the piece.
The painting of Judith depicts a woman staring directly back at the viewer, as their gazes meet one another and the viewer questions the story behind the word. The woman's eyes are folded downwards, as she slightly views the other person with a glimpse of white light and her right eye shining through.
The woman holds classic Austrian features, through her dark arched eyebrows, lightly outlined black eyes, and skinny nose. The woman's cheeks hold a light hint of rose, adding brightness to her pale fared skin. The woman's red lips are slightly open illustrating her front teeth with a wide smile, the woman is neither happy nor sad, but proudly stand staring directly at the viewer of the work.
The woman is dressed and a luxurious gold necklace, that hangs around her neck in beautiful detailed black and white gems. The clothing that the woman is covered in is a beautiful array of fabrics, swirls, patterns, and textures. The colour of the fabric lays in the deep shade of blue and gray, with thin lines going through the cloak.
The swirls on top of the clack is paired and gold patterns around along the shoulders, red circular patterns going towards the bottom, and gold dots within the middle. To the left of the painting deep shades of blue are showcased, creating a contrast between the works. The woman is accessorized not only by her necklace, but by a gold string then the covers her for arm on the left side.
The gold tones within the paintings showcase the artist transition into his gold phase, where he uses an array of styles in art nouveau, intertwined with his professionalism to showcase his work.
The pattern in the background illustrates bronze colours carved out in black, which seem to have a similar style to the Egyptian artwork and culture of the time. The significant component of the painting is the head Judith holds, gently roaming her hands through the hair. The piece significant illustrates the artist's skill in gold tone materials and intercut details.