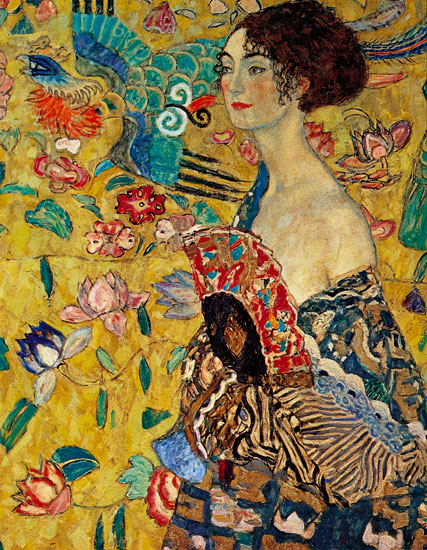 Buy Art Prints Now
from Amazon
* As an Amazon Associate, and partner with Google Adsense and Ezoic, I earn from qualifying purchases.
Lady with a Fan is an oil on canvas painting by Gustav Klimt from 1917-1918.
Klimt painted this during the later Art Nouveau movement. It was an international movement popular from 1890 to 1910 that was seen in architecture, applied art and decorative arts.
The primary features of Art Nouveau is the natural forms and structures with emphasis on plants and flowers. Japonism also had a massive influence.
There was also a heavy use of abstraction, lots of colour and a common theme of women surrounded by flowers. These women were often represented in posters that could be found around cities, largely due to new printing technologies. Art became consumable by the public outside of museums and galleries.
Gustav Klimt is an example of an Art Nouveau artist. Born in 1862 in Austria, Klimt delved into architecture, decorative arts, paintings and murals throughout his artistic career.
He was a founding member of the Vienna Succession in 1897, a group which strived to expose young artists to the best art in the world and to let them exhibit their works in the city.
He did encounter some controversy when his paintings created to decorate the Great Hall in the University of Vienna were considered too radical and even pornographic.
After this, he no longer accepted any commissions. That did not affect his prominence or success, however, as he still created many paintings and contributed to public works by his own choice.
Klimt was considered a symbolist painter and was heavily inspired by Japonism, in particular by an art journal, Le Japon artistique. He also loved to paint female figures.
Both of these characteristics are found in Lady with a Fan.
This painting is quite beautiful with the golden background full of pretty flowers and a turquoise bird. The lady is also gorgeous and styled in a Japanese dress, much like a kimono, while holding a Japanese fan.
Klimt finished this painting before suffering a fatal stroke in 1918. It is one of the last examples of his love for the female form and Japanese style.