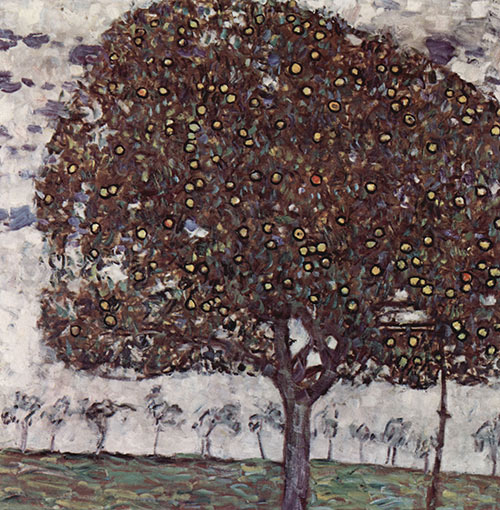 Buy Art Prints Now
from Amazon
* As an Amazon Associate, and partner with Google Adsense and Ezoic, I earn from qualifying purchases.
The artist Gustav Klimt is known to have painted three apple trees throughout his career. The Golden Apple Tree incorporated his classic style, however was ruined by a fire in 1932.
The other painting, Apple Tree I, carried the similar mosaic style to Apple Tree II.
It is unknown whether apple trees carried a deeper inner meaning for Klimt, symbolizing a prominent meaning for him. However, trees remain a classic symbol through art and history illustrating an array of deeper meaning.
The apple tree within the Christian religion illustrated the fall of Adam and Eve, a theme that Klimt studied near the end of his work. In Greek culture, the apple represent immortality and beauty, a concept Klimt may have incorporated within his work.
As Klimt son died at a young age due to sickness, and his brother and father dying early on too leading his sister and mother into a deep depression, Klimt had a significant understanding of the elements of life and death, symbolizing it within his work. Perhaps the apply tree symbolizes the theme of immortality Klimt desperately seeked as he was surrounded by death.
The Apple Tree II holds an immense difference from Klimt's first piece, Apple Tree I. Bright colours seize the first apple tree, with positive shades of green and blues. The painting incorporates a deepening landscape achieved by linear brush strokes, and a transparent meadow behind the tree. The landscape is filled with bright coloured flowers with yellow middles, adding a happy theme to the piece.
Where as The Apple Tree II, painted in 1916, holds a darker allure to the piece with a flat composition. The painting illustrates a tall trunk, with rounded branches growing out of the tree in dark green and grey colours. The apples on the tree are a pale shade of green, differentiating from the positive red apples in the first painting.
The Apple Tree II illustrates a plat patch of grass, with swirling wave brush strokes in shades of green and brown. The background of the painting is seized by grey tinted shades of white, showcasing either a gloomy sky filled with clouds or a spin on the colours used to portray the sky. The background holds a thin line of skinny trees, falling into a soft horizon based on the flat landscape the painting is created on.
The allure within Apple Trees II is a darker emotion; perhaps symbolizing a dark period the artist was experiencing. The painting had been creating 4 years after the positive first version of the apple tree, up raising the question as to what occurred to alter Klimt's style. The piece remains as one of Klimt's final paintings, showcasing a change in technique used within his work.