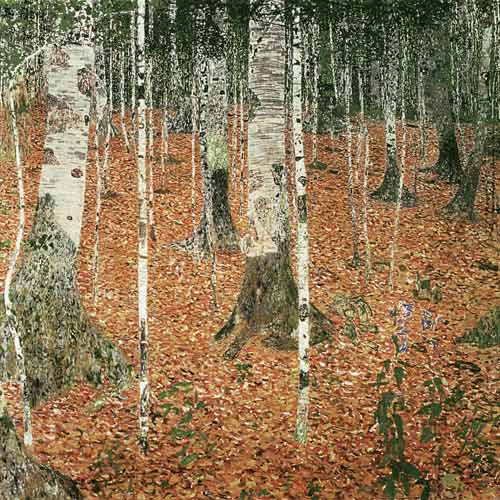 Buy Art Prints Now
from Amazon
* As an Amazon Associate, and partner with Google Adsense and Ezoic, I earn from qualifying purchases.
Gustav Klimt's Birch Forest (1903) incorporates the natural styles of the scenery through classic landscape oil on canvas paintings.
During Klimt's summer get away to Lake Attersee; the artists explored the vast forests every day at 6am, which influences an array of his work from 1901-1904. This period within Klimt's work seeks a different style and environment that remains classic throughout all it's years.
Similar pieces include Fir forest I, Fir forest II, Beech Forest and Beech Tree. These pieces illustrate the calmness of the deep forest, engulfing the lush colours. These painting illustrate a phase the Klimt had entered as he steered away from the popular styles at the time and focused on classic landscape paintings. These pieces however incorporate the artist's classic styles and brushstrokes that make the painting come alive.
The artist had deepened the style of the painting by using techniques to elongate the landscape and create intensity within the piece. Vertical trees fill the landscape, deepening the background to create a 3D painting instead of a flat surface. The birch tree fills the palette, scattered across in thick bunches and a few skinny trees. The white trucks stand as the central image of the painting, however outstrip into the leaves in the canopy above. A few trees in the painting are stripped from the white birch, to a dark barked tree.
The stems of the paintings remain a dark rotting colour, transcending into the birch white colour. The leaves fill the upper section of the painting, as they scatter across from one another and cover the background of the painting. The ground is hidden by shades of burnt orange and brown, based on the fallen leaves from the trees. As these leaves fill the floor, the viewer is left to wonder if Klimt returned to the location during the fall to paint the forest as it transcends from summer into autumn, or whether the artist had envisioned his favoured forest in a new light.
The trucks of the trees resemble columns, such as a nature styled cathedral. The landscape composition of the piece enables a human scale looking outward into the forest, as if accompanying Klimt. The leaves that scatter the floor of the forest present a dark gloomy undertone to the piece, as the forest changes its entity. The mysterious approach to the painting brings the viewer into a personal thought, as many have once wondering alone into the secrecy of the forest.
The classic landscape painting is one every viewer can relate too, commemorating the peacefulness of being alone in nature. Instead of rein-visioning the scenery, Klimt paid tribute to the beautiful scenery around him, creating the painting, Birch Forest.